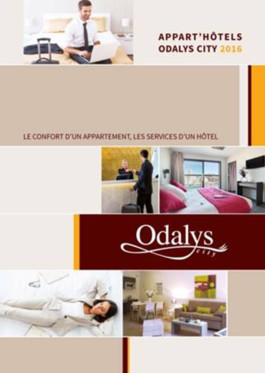 The Odalys brochure called City - Photo Odalys
For the first time,
Odalys released a city catalogue listing 30 apartment hotels
categorized in 3 ranges:
Prestige
with 11 three or four star facilities (24/7 service, wellness center, breakfast room) at the heart of cities and near business neighborhoods, the
Comfort
range with 16 two to three star hotels, and the
Primo
range.
Since 3 years, Odalys made
city-center residences a key area of development
, with no less than 9 openings (Montpellier, Rennes, Toulouse, Dijon, Colmar, Marseille, Amiens and Orléans) in just 2015.
In 2016, after Rueil-Malmaison in April, two other facilities were inaugurated in September in Levallois and Marseille.
In the next 3 years, 19 other projects are expected in Paris (Porte Pouchet in the 17th arrondissement in September 2017 and Montmartre in November 2018) and in several major cities such as Bordeaux and Nantes.
Odalys édite son premier catalogue city