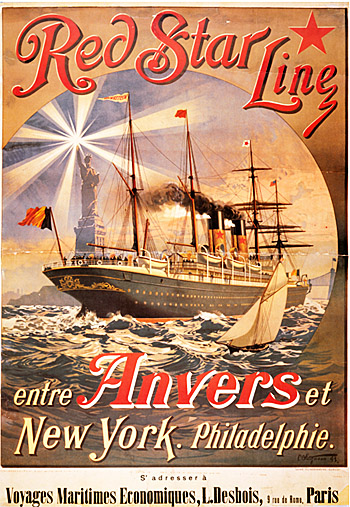 Advertising poster, 1893. Collection ville de Saint-Nazaire
«
Opened since 2000 in the ancient submarine base of Saint-Nazaire, entirely revamped in 2013, Escal'Atlantic has already welcomed nearly 1.5 million visitors.

The site offers a true immersion inside the adventure of passenger liners. These large ships filled with craftsmanship and decorative arts that lastingly marked the 19th and 20th centuries
.
»
explains Bertrand Onfray, Associate Director of the Saint-Nazaire Tourism Office.
The staged tour covers 3,700 m² and three levels.
The tale unfolds over 5 areas of multimedia support such as games, documents, and unpublished archive films projected onto the ships' interiors, offering an authentic experience where the visitor becomes the traveler.
Throughout the visit, two hundred remarkable collectible objects are exhibited enabling to travel back in time and better understand life onboard these passenger liners, that are now extinct, after the development of the much more competitive air travel.
"This museum provides the discovery of another era… It is easy to forget that not long ago, these liners served simply as a means to get from one continent to another, whereas today, cruise ships have turned into a destination in themselves. They've become floating islands where everything can be found onboard,"
explains Bertrand Onfray.
Among the exhibited objects:
first class silverware
of the Normandie liner (1935),
cabin furniture
from the France liner (1962) that conducted hundreds of roundtrips between Le Havre and New York. As for
the chandelier of the museum's bar
, it used to light up the first class smoking-lounge of the France Liner…
Practical Information
Escal'Atlantic
Boulevard de la légion d'honneur
44600 Saint-Nazaire
Phone: 02 28 54 06 40
www.saint-nazaire-tourisme.com
Rates
Adults €13
Children (4 - 14 y/o) €6.50
Free for children under 4
No reservations (except for groups of more than 20 people). Non-guided visit, duration around 1h30 to 2 hours.
Getting to Saint-Nazaire?
Train
Several daily trains with Paris-Montparnasse (2h50) and via Nantes, toward all major French cities.
Airport
Nantes Atlantique Airport is under one hour by car.
Road
4 hours from Paris and 1h30 from Angers (highway A11), Nantes is 60 minutes away, Rennes is 1h30 away, Bordeaux 4h (highway A10/A83), La Baule 15 minutes.
Saint-Nazaire (Loire-Atlantique): Escal'Atlantic, un lieu unique en Europe