While
Singapore's Changi Airport (SIN)
maintains its number two position in the ranking for the second year running, it's
Tokyo's Narita International Airport
(NRT) that secured first place in 2013, a jump from its fourth place position in the 2012 survey.
London Heathrow
is the only UK airport making an appearance in the rankings, coming in 4th place in the Bars & Restaurants category, 8th for Shopping and 10th in the world for its waiting lounges.
This is the first time London Heathrow is present in eDreams' third annual study.
Compared to the 2012 results, European airports have fared slightly better
in the overall rankings of the 2013 survey.
Five European airports have made it into the top 10 best airports in 2013
, compared to just four in 2012. The highest rated European airport is Germany's Hamburg Airport (HAM) with an overall position of fourth place.
The eDreams "Best Airports in the World 2013" study was made possible by participating eDreams customers, a number that has reached in excess of 14 million travellers.
The travel agency's customer reviews highlight the importance of comfort and convenience when travelling through an airport, with none of the lowest ranked airports making it into the top 10 for any of the individually scored services, including Bars & Restaurants, Shopping and Waiting Lounges.
As for the airports with the lowest overall ratings,
eDreams customers deemed two of Paris's airports, Paris Orly Airport (ORY) and Charles de Gaulle Airport (CDG), the two worst airports in the world.
Consult the full list of the world's best and worst airports here:
www.edreams.com/best-airports
THE 10 WORST AIRPORTS IN THE WORLD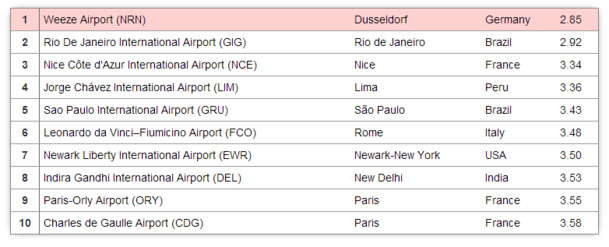 Here he are the 10 airports that received the lowest scores from eDreams customers during 2013.

Dusseldorf's Weeze Airport (NRN) was rated the worst airport with a score of 2.85. Traveler's feedback indicated that obviously it is a former military airport transformed into a public airport". Another traveler said that Weeze Airport should not be associated with the city of Dusseldorf because it takes at least 1.5 hours to reach the city.

Two Brazilian airports appear among the ten worst airports in the world. Rio de Janeiro International Airport (GIG) received the second lowest score of 2.92, while Sao Paolo International Airport (GRU) came in as the fifth lowest rated with a score of 3.43. GRU also appeared in last year's results for worst airports.

Also worth mentioning is that three French airports form part of the ten airports with the lowest scores: Nice Côte d'Azur Airport (NCE), Paris-Orly (ORY) and Paris - Charles de Gaulle (CDG).