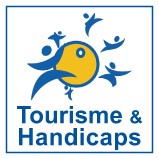 In a festive atmosphere, on April 1st and 2 2017, visitors will discover structures able to welcome people with disabilities or facing various challenges.

The Tourism & Handicaps Association has been working hard since 2001 to develop and to promote structures that can welcome people with disabilities and that can respond to their demand and challenge.

The Tourism & Handicaps Association has created b[a "Tourism & Handicap" label ] b assigned to structures ( such as: accomodations, restaurants, museums, Tourism Offices, outdoors activities services...) which volunteered to pass the control and to develop their equipments in order to better respond the needs of physically, visually or mentally impaired persons.

Today, some 5 500 structures are awarded with the Tourism & Handicaps label in France.



A general mobilisation to support tourism for handicapped people with their family and friends
National Tourism & Handicap Days will take place on April 1st and 2 2017 everywhere in France.

Festive and friendly encounters between public and labelled structures will give the opportunity to one each other to better understand and discover the market for leisure and tourism accessible to all.

A not-to-be-missed event.

For more information