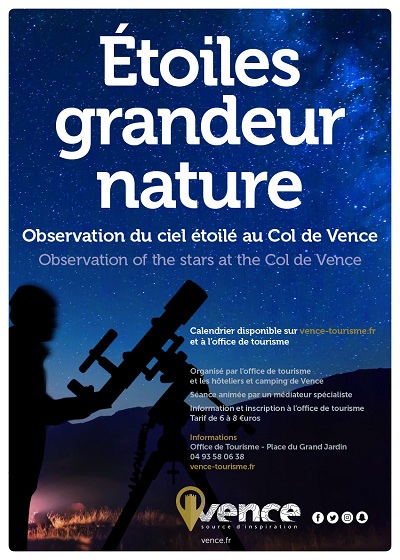 DR : OT de Vence
In a strategy to promote the Alpes Maritime's biodiversity and natural patrimony, Vence Tourism Office and its partners create scientific and ecotouristic events.

In this exceptional site visitors are invited to admire one of the purest skies around the world listening to explainations by specialists and member
of the National Association of Sky and Natural Environment Protection.

A beautiful open air experience.
Calendar of nocturnal sessions (weather permitting) :
- Saturday March 04 2017 - 6pm
- Wednesday April 12-19 2017 - 9pm
- Sunday May 07 2017 - 9pm
- Sunday June 04 2017 - 10pm
- Wednesday July 12, 19 and 26A
- Wednesday September 23 2017 - 9pm
- Wednesday October 25 2017 - 6pm
- Wednesday November 01 - 6pm
- Wednesday December 20 et 27 - 6pm