TourMag.com - What is your assessment of 2013 for Aegean Airlines?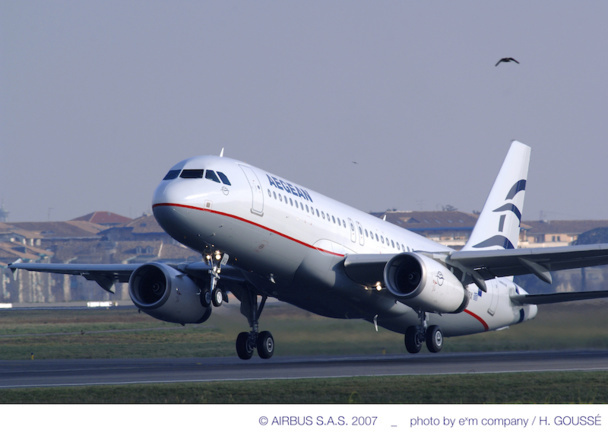 Aegean, the Greek company strengthens its presence in France. DR
Pierre-Emmanuel Duban: We flew last year nearly 6.8 million passengers, an increase of 12% compared to 2013.

Our fill rate increased from 74% to 79% and even rose by 10 points in the last 2 years.

These good filling coefficients have become our most profitable factor.

Besides, our financial results are excellent, with revenues up 21% to reach €682.7 million. Net income after tax totaled €66.3 million, compared to losses of €10.5 million in 2012.

TourMag.com: Has the French market contributed to these excellent results?
Pierre-Emmanuel Duband: Absolutely, the French market is very efficient, showing an increase of 11% compared to 2012.

In 2013, we carried more than 200,000 passengers between Paris and Athens, for an occupancy rate of over 80%.

More generally our direct flights Paris-Athens, Paris-Heraklion, Paris-Thessaloniki-Rhodes and Lyon-Athens, 300,000 passengers were fling with us for a filling rate of 80% on each route.

And our 2014 season promises to be equally successful. We are totally in line with our sales objectives.

TourMag.com - What are the obligations for tour-operators?
Pierre-Emmanuel Duband: TO commitments make up between 10 and 15% of our business.

This may seem low, but let's not forget that Greece is a destination where travelers easily organize their trip on their own.

Our most important partner for many years is the Tui group with France Marmara.

The French TOs love our new routes departing from the province. Because it is often difficult for them to completely fill a charter from Lyon, Marseille, Nantes and Bordeaux.

I also believe that our service on board, including drinks, a hot meal, a pre-assignment, and our modern Airbus fleet, helps professionals better sell Greece and its famous hospitality.

Especially since we were awarded by Skytrax as the best regional airline in Europe for the last 3 consecutive years.

TourMag.com - Can you tell us more on the newly opening routes, especially in the provinces?
Pierre-Emmanuel Duband: Our flight capacity between France and Greece has increased by over 50%, with more than 460,000 seats available for sale.

In Paris, we have opened flights to Rhodes and Kalamata twice a week. Our direct flight to Heraklion starts running daily much earlier in the season, beginning May 21th. We strengthened Thessaloniki to offer up to 4 direct weekly frequencies.

Since last April, we opened direct flights from the province.

So we offer 2 flights per week between Athens and Marseille and Lyon-Heraklion and Marseille-Heraklion.

We also launched a weekly direct flight Nantes-Athens and Bordeaux-Heraklion. Finally, we wanted to increase the frequency of flights from Lyon to Athens launched in 2013, which will go up to 3 flights per week.

For border customers in Belgium, we are increasing our frequencies between Brussels and Athens to 3 flights per day and strengthening our direct weekly flights between the Belgian capital and Heraklion, Corfu and Rhodes.

Finally, for customers wishing to leave from Geneva, our flights to Athens will rise from 3 to 4 weekly flights.

Let's add also that through our acquisition of the company Olympic Air in October 2013, we have increased the number of domestic destinations from 11 to 34, most of which are accessible via a stop over in Athens.

The combined network of the two companies accounts for 205 international routes and 45 domestic routes.