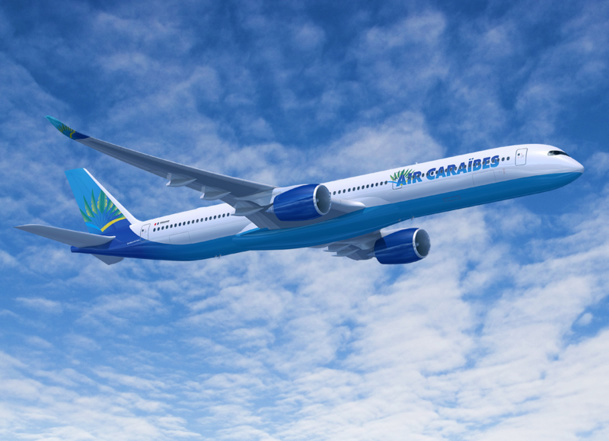 The Air France strike is making some people happy.
At Air Caraïbes for example,
the month of September, traditionally calm, will beat records thanks to the deferral of passengers.
"This enables for a "high-end" clientele to discover our product, appreciate it and maybe travel with us again" hopes Edmond Richard, Commercial Director.
Enough to end the 2014 summer season with a bang during which
the company attracted an increasing number of travelers to now reach 30% of market shares on the French West Indies. While Guadeloupe remained stable, Martinique progressed by 3 to 4%.
But it looks like the Winter season may be more difficult and for various reasons. First of all, there is the Chikungunya epidemic a little too exploited by the press according to the company.
"This epidemic is affecting all of the Caribbean, but the spotlight is only shined on us"
laments Edmond Richard.
Air Caraïbes hopes to raise prices this Winter
The economic crisis also strains the budget of middle class travelers, the primary clientele going to the West Indies.
Consequently, travelers always make their reservations later, hoping more than ever to find promotional offers.
"Our planes fill up much later. Even during the summer, clients buy their tickets within the month of their departure"
laments Edmond Richard.
A situation that degrades the company's average revenues.
"The problem arises when our discount prices of 399 euros become the constant rate"
he continues.
But he wants to stay positive. Thanks to the decrease of Air France's capacities and especially the withdrawal of XL Airways, Air Caraïbes hopes to improve its yield.
Because while the arrival of XL with its low prices was beneficial to the consumer, it wasn't enough to fill up its aircrafts.
"The offer of a fourth operator in the low season is doomed to fail"
says Edmond Richard.
The West Indies' market, particularly imbalanced, is in fact
very costly to operate throughout the year
. But that is the price to pay to settle in the market and be permanent.