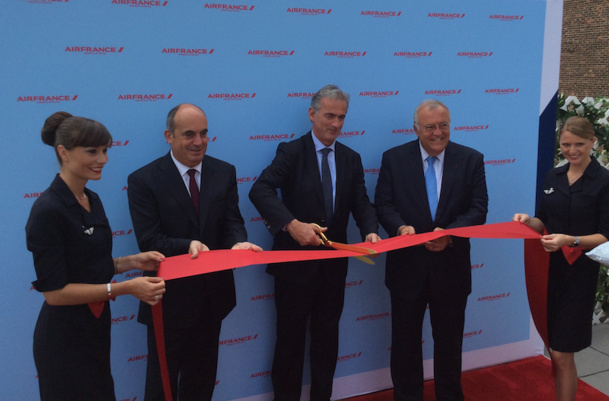 The Air France team during the inauguration of the first Boeing equipped with the new cabin. DR
Alexandre de Juniac, CEO of Air France-KLM is all smiles.
After 4 years of work, his company took an important step further in the establishment of the plan Transform: the renovation of the cabins in the long-haul fleet.
"Today, we're back within the international competition"
he insures.
The first newly refurbished Boeing 777 landed in New York last June 24th.
The major American city is a historical destination for Air France. Operated on for 70 years, it was the first city to receive the Concord in 1977 as well as the A380 in 2009.
Nearly 4,000 seat are offered for sale daily,
thanks to the joint-venture with Delta.
A budget extended to 300 million euros
This Boeing is the first if the 44 aircrafts that will undergo a rejuvenating treatment by the end of 2016.

Almost the entire long-haul fleet should be equipped by 2017, except some lines to the Caribbean and the Indian Ocean, where competition is less intense.

Air France has planned to change 2,102 business seats, of which some were more than 10 years old, through an investment of 200 million euros.

Enough to seduce business travelers who, while they account for only 1,6 million passengers out of the 15 million in total, they generate 8,5 billion euros of the revenue for long-hauls.

As for the First Class, introduced in Shanghai last may, should be deployed next September on Singapore and New York.

But the renovation doesn't stop for the classes that contribute lots of revenues. Air France also anticipates changing 10,000 seats in Economy Class and 1,100 in Premium Economy for a total of 235 million euros.

€700 million invested in the refurbishing of cabins
These seats will provide 2,5 centimeters of added space for passengers' knees. They will be equipped with an electrical outlet, a larger table and a new navigation system of 9 inch tactile with 1,000 hours of programming.

The meals have also been redesigned, with two hot meals on long flights.

Until all of the aircrafts are newly equipped, travel agents will be able to spot already refurbished flights on Amadeus, thanks to a pictogram. And according to statements made by the company's spokespersons, the prices will not be higher...

In total, Air France has already invested close to 700 million euros in the renovation of its cabins (€500 million for Air France and €200 million for KLM.)

But the company is expected to extend its budget by injecting €300 million more on the fleets of the Airbus A300 by 2016 and A380 in 2017.

Alexandre de Juniac also wants to announce the launch of various construction work on the medium-haul fleet.

"Our work isn't done. We will continue to advance the quality of our products in order to offer a better experience to our passengers.

We want to be back in the Top 3 of the world's company by 2016."

Alitalia – Etihad: A friendly operation according to Air France
Alexandre de Juniac states not having been informed of the negotiations between Etihad and Alitalia, but only through the Italian press.
Nevertheless, he views this participation as friendly.
"It is in all of our best interest to pursue our partnerships and keep developing them"
he insured.
However, he doesn't anticipate at this stage to increase his participation to Alitalia's capital diluted last October.