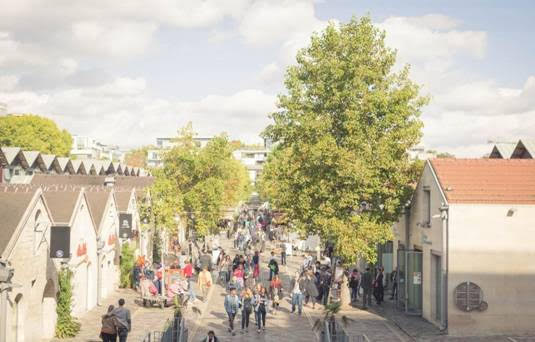 La Cour Saint-Emilion © Bercy Village - Laurence Von der Weid
As a former wine market, Bercy Village, an undeniably atypical site in Paris, managed to preserve its heritage and authenticity. Located in the 12th arrondissement of Paris, with direct access via the metro line 14, Cour Saint-Emilion is an original touristic destination with over 13 million visitors annually. The 40 shops, devoted to the art of living, discovery, culinary delicacies, and leisure, and its location and space ideal for encounters give a true soul to the Parisian East side.

Also new, visitors will now be able to come stroll around the Cour Saint-Emilion, enjoy a movie screening, and leisurely prepare their Christmas gifts in the numerous boutique of Bercy Village. Visit Maje, Sandro, IKKS or ÏdKids for 100% fashion shopping, for wellness products come to Fragonard, for the athletic bunch stop by Boardriders, Arena, Boutique Marathon or CMG Sports Club. If you're looking for a zen and creative atmosphere discover Nature & Découvertes and Loisirs & Création. Those with a sweet tooth will not be left aside thanks to the high-end food stores such as Eric Kayser, Oliviers&Co, Dammann Frères, la Cure Gourmande or Alice Délice, the boutique where the best chefs buy their supplies! As for the culture addicts, they won't miss out on the staple, the FNAC, and its thousands of entertainment references, and will be able unearth new talents at the Art Gallery Carré d'Artistes.
Whether on the terraces or within the cozy decors of the restaurants Boco, Chai 33, Factory&Co, The Frog,… visitors from all ages will also be able to enjoy a sweet delicacy before or after a movie screening at the UGC Ciné-Cité.

And starting November 20th, visitors will discover the new end-of-the-year scenery called "Magic Garden," a world full of poetry and tenderness. Followed by, in December, lots of strange and mysterious creatures to meet face to face in the alleys of the weekend's magical entertainment. Finally, for the program to be complete, go contemplate the fun and quirky current exhibit dedicated to Paris and its inhabitants, in the form of The New Yorker front covers.

And, for this end of the year 2015, the entire surrounding neighborhood will also come to life, with the inauguration of the new Accor Hotels Arena room, the exceptional opening of the Fairground Arts Museum, and the special program of the French Film Library.
More information on the boutiques and full program of entertainment on:
www.bercyvillage.com
Practical information Bercy Village
Information call
0825 166 075
or on Internet :
www.bercyvillage.com
/
www.facebook.com/Bercy-Village#
/
https://twitter.com
/
https://instagram.com/bercyvillageparis
Bercy Village. Cour Saint-Emilion. 75012 Paris.
GETTING TO BERCY VILLAGE
METRO
: Line 14 - Cour Saint-Emilion
BUS
: Lines 24, 109, 111 and Noctilien (stop Avenue des Terroirs de France) and 64 (stop Dijon-Lachambeaudie ou Baron Le Roy)
VÉLIB
: Station Rue François Truffaut and Rue des Pirogues de Bercy
BY CAR
from Paris: right-hand track right bank. Exit Bercy Terroirs. Follow signs for Parking Saint-Emilion
from the beltway
: exit porte de Bercy. Direction Paris Centre. 1st exit Parking Saint-Emilion
PARKING LOTS:
Saint-Emilion and Bercy Lumière (3000 spots)
PRESS CONTACT:
Agency PopSpirit
Isabelle Vernhes -
isabelle@pop-spirit.com
Charlotte Vincent -
charlotte@pop-spirit.com
Phone : 01 42 93 44 56 -
www.pop-spirit.com
Bercy Village
Chloé Julian -
presse@bercyvillage.com
Bercy Village Communications Manager
Phone : 01 40 02 91 99