Thanks to Mr Stephen A. Schwarzman's exceptional 3.5 millions euros patronage, Chambord's gardens will be beautifully transformed by April 2017.

The patronage convention has been approved by Chambord national domain's board of directors on Wednesday December 7, 2016
A major renovation
Created under the reign of Louis XIV and designed in 1734, the gardens have existed for more than two centuries before they slowly faded out between the two World Wars.

600 trees, 800 bushes, 200 rose trees, 15 250 plants and 18 874 m² of lawn will cover 6 1/2 hectares at the foot of the Castle's north façade.

The renovation began in August 2016.

Gardens will reopen to the public on April 1st 2017.

A long run project
During his visit to Chambord in December 2014, the President of the République approved the idea of this project commissioned by Chambord national domain and initiated by Jean d'Haussonville, managing director.

In February 2015, the project has been scientifically approved by the historic monuments national commission.

It took some 15 years of studies, research and work to narrow down and to confirm the exact locations mentioned in the XVIIIth century plans.
An exceptional patronage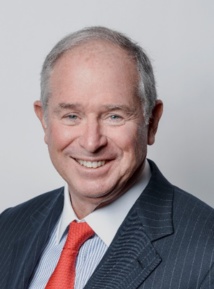 Mr Stephen A. Schwarzman, President, CEO and founder of Blackstone (the biggest alternative assets manager in the world) offered so sponsor Chambord's French gardens renovation.

Stephen A. Schwarzman - « National treasures like Chambord are of major importance for the cultural heritage, for France's History, for French people and for the international community.

As the world is moving fast, our constant engagement with the past brings sense to today's life and a better understanding of our century.

I am proud to bring my support to this renovation project and I strongly suggest people to help preserve other historic sites with such an important meaning for future generations ».