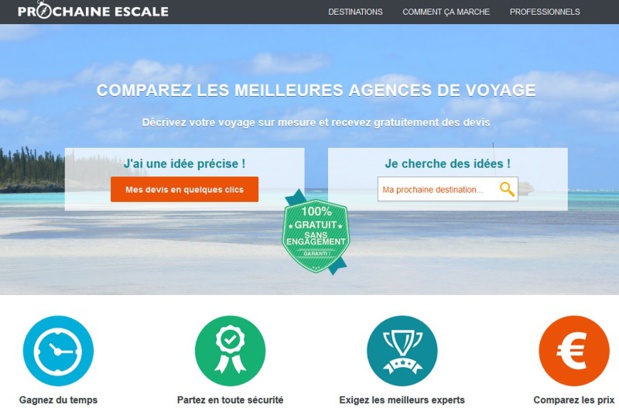 prochaine-escale.com does not hide its ambitions. In the next 3 years, the website aims at acquiring 2% of the market share of the custom-made trips segment sold by tour-operators and travel agencies - Screenshot
A new distribution and acquisition channel for French tour-operators, this is how
Prochaine-Escale.com
presents itself.
At first glance, the website specialized in custom-made trips, that was officially launched last April, looks quite similar to Evaneos.
And yet, for Thomas Faizant, co-founder, the difference is major:
"on the one hand we only work with B2B producers registered in France, and, on the other, we give travelers the possibility of comparing offers."
Beachcomber, Austral Lagons, Visiteurs, Voyage et Tradition, Aya Désirs d'Orient stand amongst the
50 TOs who have already partnered with the brand.
"During the IFTM Top Resa, we met other interested TOs. We are currently negotiating with Salaün for its expert brands: Nordiska and Pouchkine Tours,"
adds Thomas Faizant.
Producers now have a new tool to
"promote themselves directly"
at
"lower costs than in traditional travel agencies."
Indeed, Prochaine-Escale.com takes no money. It presents itself as a business finder. In fact, it is not registered at Atout France.
"We charge fees in the form of a 10% retro-commission paid by our partners during every sale.
We are assisted by lawyers on this point, and in any case, we want zero ambiguity towards our clients. We do not organize trips, which is why we clearly highlight our partners on our website,"
explains the co-founder.
€2 million in turnover and €25 million in business volume
Indeed, each tour-operator has a personalized space in which it features its services.
The website does not hide its ambitions.
Its hopes to reach 2% of the market share of the custom-made trips segment sold by tour-operators and travel agencies, meaning €2 million of turnover for €25 million in business volume.
Between now and the end of the year, the company is setting the goal of doubling the size of its network of partners to cover 150 destinations.
In two months, Prochaine-Escale.com generated sales leading to €80,000 in business volume for 7 completed cases, including one great trip of 6 people in Mauritius, and one for 2 passengers in Greece for an amount of €4,000.
To satisfy his partners, Thomas Faizant looks closely at the conversion rate.
To do so, quotes are made manually.
"We make sure that the travelers' demands are coherent, and then we look at which TOs are best positioned to meet the offer. All of our added-value lies in finding the right expert,"
he adds.
Thus, the quotes are only sent to 2 partners, maybe a 3rd if the client has not made a decision after a few weeks. Then, the TO and travelers connect.
Referencing and white-labeling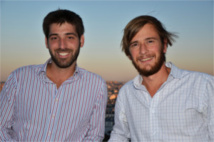 Thomas Faisant and Renaud Moulas, founders of the website © Prochaine Escale
To promote its services, Prochaine-Escale.com focuses on social networks and natural referencing.
Paid search is not left aside. The website is relying on tour-operators. Indeed, TOs have the possibility of providing the young company with a marketing budget.
In exchange, the company links web traffic to the tour-operators' webpages, and will pay them, in a second step, through the form of credit.
Another line of development: white-labeling
. A partnership is already established with the comparator
What The Flight.
Other projects are being studied with PagesJaunes and Leguide.com...
We are well aware that these newbies in the sector are not short on ideas and shake up the existing models, clearly enjoying their status.
The status of a business finder and other intermediaries is nothing new, and it
benefits from legal gray areas.
Prochaine-Escale.com took advantage of this legal loophole to tackle a promising segment for traditional agencies, that of custom-made trips, without having to meet the same obligations…and all in partnership with TOs. The debate has been (re)launched.