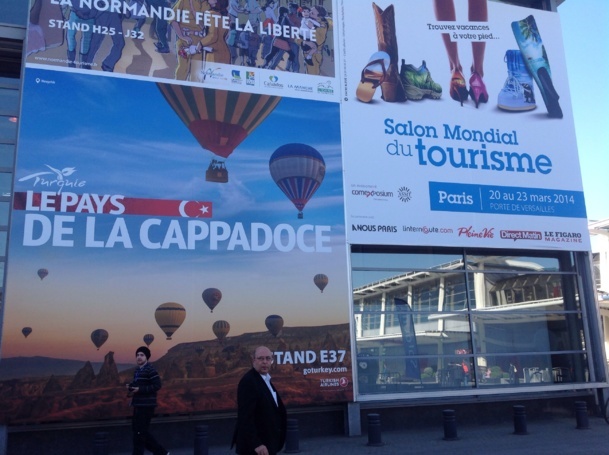 Foreign DMCs against registered tour operators: a discreet but intense competition that raged in the halls of the World Tourism Fair.
Yet visitors remained unaware.
Because the rules are clear. A foreign DMC, even in total legality in its own country, has no right to work on our territory.
"You have to be registered in order to sell services in France"
insists Emmanuelle Llop, a lawyer with Equinoxe.
Yet the vast majority of operators interviewed had no knowledge of such legislation. The majority assured us that they were referring the customers they met back to their partner tour operators.
If this is the case then why make the trip? Why take the time to go to a public area, work on building reputation, if it is only to meet potential prospects?
Some told us to backup tourism offices such as Richard Cirica from Tanganyika Expeditions, which is duly registered in France. He came to give a hand to the Tanzania representative to inform travelers.
"We do not come to meet new customers because we want to work only via travel agencies and not directly,"
he says.
A few stands further, we met the team from Adventure Oolahwan a new Quebec agency that recently launched snowmobile excursions and that will soon offer packages to French tourists, even including the flight.
Its director seems unaware of the rules, but he is quickly corrected by his colleague:
"We will of course go through an authorized Quebec agency to distribute our offers"
interjects Narjis Kandri Rodi, Director of Partnerships and Tourism.
A little further at the Lithuania stand, the Baltika Taiga Euro DMC is back in the show after 10 years of absence.
Its director Veronica Hidekel assures us also that they do not solicit individual clients, she refers them back to her partner, the Travel Gallia tour operator right at her side. However, she is very forward coming to groups without knowing the procedures necessary to sell services in France.
And yet, even as a European country having all of the necessary permissions in its home country, a DMC must apply to Atout France for a temporary authorization to practice.
No solicitation of individual clients at a public show...
At the Romania stand, Maria Deculescu, director of Zenit Travel DMC assures us that she does not engage in selling to the general public.
"I address myself only to agencies and TO and I hope to meet some here,"
she explains, though conscious of the general public incentive of this event.
"Before there were more works councils and associations, but they are fewer in recent years."
At the nearby desk Brigitte Bounon, commercial director of the agency Hello Romania (registered at Atout France) does not consider her Romanian colleagues as unfair competitors.
"I'm not sure they do a lot of business coming here. Because customers know how to decipher the difference when we explain sale and insurance policies."
Besides, for Mihaela Mihet, director of the tourist office, things are clear.
"The Romanian DMC who are here will not sell to visitors. They will automatically refer them to their TO partners."
Not sure that it was worth the trip for them.
Surrounded by legal trading partners
Others, however, do not hide their commercial ambitions. This is the case Rev'Tours agency specializing in holidays in Uzbekistan.
Again, its director Murodkhon Ergashev has never heard of Atout France and even less of the required authorization.
"The show organizers have informed us of nothing of the sort. And I am certain that many operators are in the same situation as us"
he exclaims, before carefully noting the name of Atout France to get the necessary information concerning his authorization.
Murodkhon Ergashev is right: the show organizers are not supposed to be law enforcers.
Moreover, it would be difficult to check the permissions of 550 exhibitors.
"We have no way of controlling the legality of DMC when they are invited by the Office of Tourism"
says Marianne Chandernagore director of the show.
"And some are obviously tempted to sell directly."
If repressive measures against fraud were already taken 4 years ago, it was more to check the food stands but not the permissions of DMC stands.
Should we ban all these foreign agencies to sell? The issue is not on the agenda.
However, Marianne Chandernagore encourages destination representatives to surround themselves with merchant partners, but legal ones.
"When a tourism office has an incentive of selling and not just representation, the returns in terms of bookings are excellent."
Because even if they rush to the free pens, promotional flyers and brochures, visitors come for one thing above all: to book their next vacation.