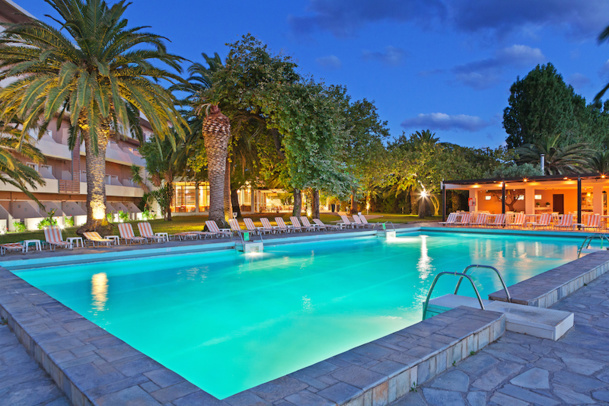 The pool of the first hotel by Dream Holiday, exclusively dedicated to single. DR-Dream Holiday.
Let's dissipate any misunderstanding that this title could evoke to our naughty readers.
Dream Holiday
is not a dating club.
This is at least what the two founders, Olivier Testard and Morgan Monharoul, declare clearly and loudly
The two men have been working on
their tour-operating project for singles
since June 2011 and their observation is simple.
According to studies, there are between
15 and 18 million singles in France
. But no specific vacation offer targets this particular market.
There are a few specialists that bring their travelers to Look, Marmara, or even Club Med.
But these establishments are not entirely dedicated to them.
Meaning that the clients have to endure babies crying in the pool, the morning hours of breakfast, or some of the activities that are don't necessarily foster dating encounters.
"There are three categories of people in a club. Families and couples, who manage to cohabit, and singles, who are not fully satisfied. Thus, we wished to establish a hotel conceived just for them,"
explains Olivier Testard, who worked at Club Med, Look, and Nouvelles Frontières.
Commitment to 140 bedrooms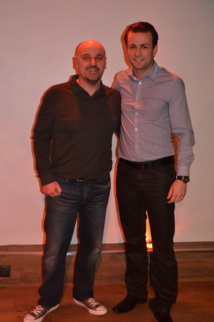 The two associates have succeeded in convincing a
Greek hotelier, located in Longos in the Peloponnese,
to welcome a clientele of singles for the entire summer.
Dream Holiday has committed to
140 bedrooms in the establishment
, while financially participating in their renovation.
"We want to offer a high quality service on the market and establish a good image to render our clients loyal and make them ambassadors of our brand,"
explains Morgan Monharoul, former activities manager at NF.
There is no discussion of targeting young people on Spring break. Rather, the TO is betting on
corporate employees between 30 and 55 years old
, who want to do athletic activites, relax, and also make encounters.
The club plans traditional activities such as fitness, dance, cooking classes, and athletic activities. However, all of the professors will be State certified in their discipline.
The group is also betting on famous guests, such as dancers from Dancing with the Stars, singers of the Nouvelle Star, or cooks from Top Chef, and the best baker.
Rates ranging between those of Club Med and Look village
To bring this clientele to heaven, Dream Holiday has committed to
160 seats per week
between Paris and Greece with an air charter broker, for 18 weeks of operation,
from May 22nd to September 25th.
As for rates, the
TO insures setting an honorable range
between
"rates of Club Med and Look village."
A launching offer of €999 has already been reserved to 40 clients. The prices then vary between
€1049 to €1549 per week.
But careful, to insure perfect equity within the hotel, the reservation system will block a quota of rooms depending on the buyer's gender.
The make their
€500,000 investment
profitable, the hotel of Olivier Testard and Morgan Monharoul will have to reach an
occupancy rate of 60%.
And if everything goes well, they're expecting a
business turnover of 3 million euros for 3,000 clients in the first year
. An advertising campaign on the dating site, Attractive World, as well as two weeks of spots on Virgin Radio should be enough to meet these objectives.
For the moment, the two associates are not thinking of distributing in B2B, even though they have already been contacted by various networks that are very interested in the concept.
But in the event of success, they have already signed pre-contracts with other clubs in Croatia, Punta Cana, and Thailand.
Meaning that they could eventually turn to travel agencies.