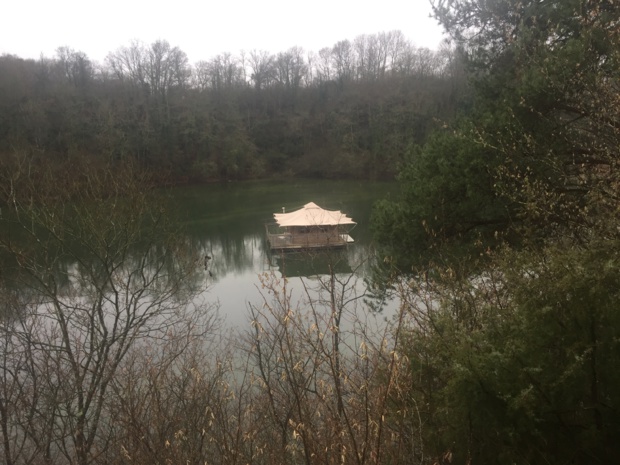 Floating cabin at Echologia
Echologia offers original accommodations established throughout 70 acres in the former lime quarries of Louverné, a historical site that had been entirely abandoned until two childhood friends decided to upgrade this local estate and transform it into a touristic living space, around ten years ago.

In total, 33 very atypical touristic shelters are set-up around the site: floating cabins, trappers' cabins, wigwams just like the eskimos, and authentic Mongolian yurts that were built by true Mongols. A wonderful escape!
An ecological lifestyle
Listed as a ZNIEFF (natural zone of ecological, fauna, and flora interest), the site has an exceptional fauna and flora that we can easily observe during a walk around the estate.
7 inundated quarries including a particularly impressive one, the Grande Bleue, offer a superb panorama to clients staying at the site and there are many swimming or canoe ride options.
"Aside from unique accommodations, we provide our clients with a true eco lifestyle at the heart of wilderness and in full immersion,
explains Vincent Brault, one of the creators of Echologia,
since all of the living spaces are ecological and the site's operation was conceived in a way to respect the environment with composting toilets.

Every morning, we serve an organic breakfast that we bring directly to the client's home, whether it is a floating cabin or yurt."
Diverse activities at the site
In this unique space, one can take part of a wide range of activities: foot rally, swimming in the natural pool, archery, educational trail interpretation, crayfish fishing, underwater diving…

But upon discussion with the managers, it is easy to create many other, unique, activities, such as a group role game in the middle of the wilderness, for example.

Echologia also has several rooms ideal for company seminars along with the Orangerie, a beautiful and large room bordering the water, that was created for more festive events such as birthdays or weddings.
Practical Info
Echologia
Lieu-dit Bas-Barbé, Louverné
http://www.echologia.fr
Rates
: starting at €90 for two people with breakfast included
Opened from March to late September.
Mayenne Tourism Office
:
http://www.mayenne-tourisme.com
Getting to Echologia?
Road
Through the Highway A81, it takes 2h15 between Paris and Laval. Then calculate a 10 minute drive from the capital of Mayenne to reach Echologia.
The site is a 45 minute ride from Mans and Rennes.
Train
SNCF Train Station of Laval
Paris/Laval trip duration: 1h40
http://www.voyages-sncf.com