Rates
The rate is an important element in our comparison.
To decide between MisterflyPro and Resaneo, we made several requests on short-haul flights (Paris-Barcelona and Paris-Rome) and long-haul (Paris-New York and Paris-Bangkok) for
2 adults and 1 child.
Both search engines offer
net rates to travel agents
, who can then apply their own margin. We voluntarily chose to compare
the same companies and the same schedules
.
We chose to check only
one luggage of 20 kg
for the 3 passengers on the roundtrip flights, additionally to the carry-ons allowed in the cabin for the low-cost transporters.
Results:
Out of the 8 requests made, we make note that
Misterfly comes out 5 times with cheaper rates
, and three times with a price difference equal or inferior to €5.
On the short-haul flights
operated by Transavia for Paris-Barcelona and easyjet for Paris-Rome,
Misterfly stands out particularly for flights with no checked-in luggage.
However, with the luggage option,
Resaneo catches up
: the price difference between Misterfly and Resaneo is only of €1.7 for the arrival of the Paris-Rome with easyjet.
Resaneo even takes the lead for the Paris-Barcelona flight on easyjet with a cheaper rate by €6.7
.
The price of checked-in bags is largely higher at Misterfly
(see graphic); €50 versus €40 for Resaneo on Paris-Barcelona, and €56 versus €42.8 for Resaneo on Paris-Rome.
On the long-haul flights
, Resaneo shines through with rates that are clearly cheaper on the Paris-New York flights operated by British Airways and Paris-Bangkok operated by Emirates. The price difference is €301 and €208 respectively.
However, for the Paris-New York flights operated by Air France and Paris-Bangkok operated by Royal Jordanian, it is Misterfly that has the best rates. The price differences are as follow: €5 margin on Paris-New York by Air France, and €76 for Paris-Bangkok by Royal Jordanian.
In conclusion:
In sum, it is complicated to see a major winner on the rates portion.

For short-haul flights, everything depends on the price option of a checked bag.

If we take into account the price of checked-in bags on short-haul flights, Resaneo and Misterfly both win the prize of the cheapest search engine, with sometimes very small differences.

For the long-haul part, same observation: each take their turn, they show the lowest rates. But we'll keep in mind the very good rates displayed by Resaneo on the Paris-New York flight operated by British Airways, and Paris-Bangkok operated by Emirates.

Note that the IATA ticketing fees are €8.00 per passenger on both sites.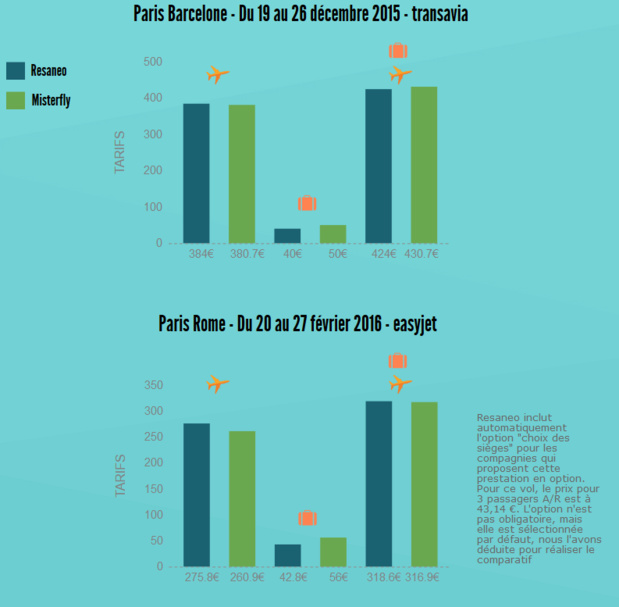 Click on the image to enlarge - Graphics created on piktochart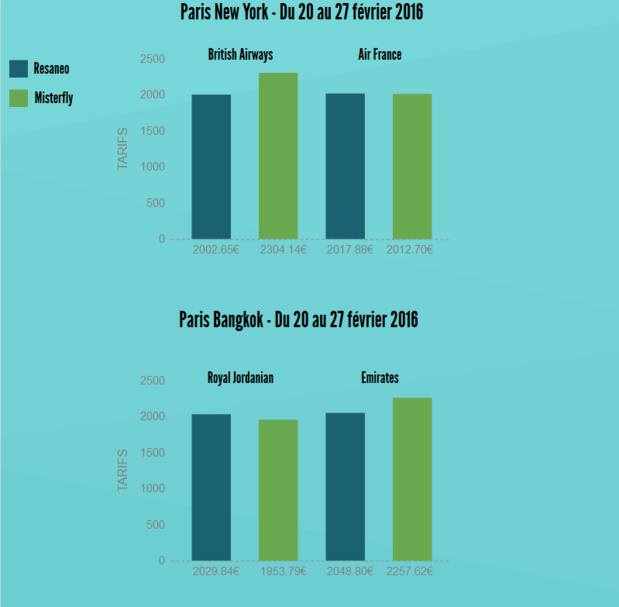 Click on the image to enlarge - Graphics created on piktochart
The offer:

By doing our tests we were able to observe that Misterfly and Resaneo bring up a large amount of airline companies.

Resaneo announces 600 referenced transporters. On its end, Misterfly does not provide a figure, but states "collecting all of the companies and low-costs available on many GDS."

Low-cost and traditional companies are available on both engines. There is one plus for Resaneo that also offers charter flights.

An offer that Misterfly is in the process of including to its database.
Functions:

Mixing of companies:

Resaneo and Misterfly offer the possibility of "combining companies," meaning to offer one company for the outbound flight and another for inbound:


Different airports for outbound and inbound flights:

Both websites also offer openjaws. On one roundtrip flight, the departure airport on the way there can be different than the arrival airport upon return (for example departure from Orly outbound, and arrival to Roissy or Beauvais inbound.)

Note that Resaneo highlights in red the warning that "the departure and return airports are different."

Resaneo also offers a quotation service tool online for Around the World type flights. At Misterfly, we have to go through the Helpdesk for this type of product.


Airport assistance service:

Resaneo directly offers, once the flight is chosen, an airport assistance request form. Everything can be done online.

As for Misterfly, it is necessary to contact the Agencies Support by phone.


Carry-on bags:

Once the trip is chosen, Resaneo informs the travel agent on the size and weight of the carry-on bags allowed by each company.

A valuable information to advise the client on the choice of whether or not to opt for a paying option of checked luggage.

This does not appear on the Misterfly website. Only some general information appears in the Help section.


Checked bags:
Both websites offer to add the paying checked luggage option, with the price varying depending on weight, for companies that offer this additional service.
However, Misterfly stands out by displaying right on the first page the search results on the price for checked luggage.
(For the price of checked luggage, see comment above.)

Schedules, connections, companies:

Both websites have a menu that enables to specify searches by applying filters (rate, hours, direct flight or not, company name…)

Children traveling alone:

A specific online form for children traveling alone is accessible on both websites.


Insurances, options:

Misterfly and Resaneo offer an optional cancellation insurance to agencies.

Misterfly also offers a multi-hazard package.

Other fee-based options offered by Misterfly: IZIWIFI, an unlimited access to internet in 64 countries costing €7.90 per day. Along with the special option: "Flexible Ticket" that makes the flight changeable and refundable, at a reduced rate.

Seat selection:

Resaneo automatically includes the paying option "choose your seat" for companies that offer this service additionally, in order to insure that all passengers be seated next to each other during the flight. The option is not mandatory but it is selected by default.

For this type of option Misterfly incites travel agents to contact the Agencies support by phone.


Printing boarding passes:

For low-cost companies that require online check-in before departure, Resaeo automatically edits the boarding passes one week before departure.

At Misterfly, the boarding passes can be issued, but this is currently done via the Agencies Helpdesk.

Pricing conditions:

Misterfly displays pricing conditions provided by the GDS for each request made, once the roundtrip flights have been selected. Information that is not provided by Resaneo.
Ergonomics, design

Launched officially in September, Misterfly is inspired by trending designs. A refined website, bright colors, with menus in the form of pictograms, the travel agent has a website similar to one designed for a general audience.

Putting forward only the outbound flight in the search results page is innovative.

As for Resaneo, the presentation is more austere, but the offer is very readable nonetheless.

Generally, we can adapt easily to both systems that are quite intuitive.
General assessment

Resaneo and its 3 years of experience on the B2B market is still way ahead of Misterfly.
When it comes to rates, both engines stand shoulder to shoulder, as for functions, however, Resaneo's tool is more developed.
"We are positioned on the B2B segment, we have no attempt of doing B2C, this is what makes us stand out most,"
highlights Yannick Faucon, Executive Director of Resaneo.
"We are concentrating on our core profession: airline transportation. We wish to maintain this model that we are in fact going to duplicate in Italy, still and only in B2B."
The base of Misterfly was indeed created to conquer two targets B2C and B2B, even though two versions exist.
The two founders of Misterfly, who are not new to the world of flight search engines, are already working on refining their "young" tool.
Carlos Da Silva confirms so:
"Our engine was launched recently, and we are already working on a new version.

Many new products will arrive inside agencies. New original functions are under production, such as the possibility of changing online the dates of a trip, to then obtain the cancellation price, and to directly see the cost of the new trip."
The arrival of Misterfly in the footsteps of Resaneo will, without a doubt, create quite a positive emulation, that in the end should be beneficial to agencies. Great news!
Note from the editors: We should like to thank Resaneo and Misterfly who acted in full transparency by giving us access to their engines. In fact, we have kept the screenshots of our searches.