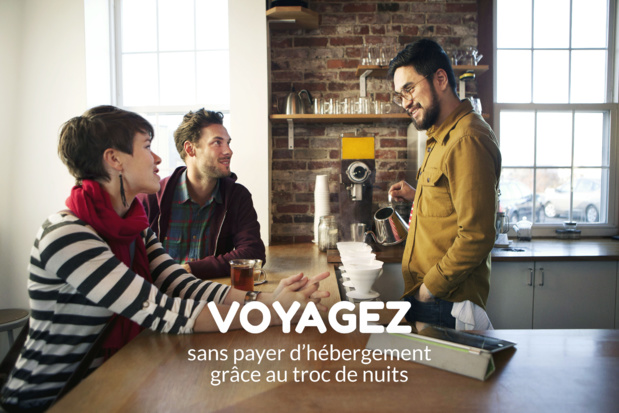 Travel thanks to night swapping - (c) Nightswapping
This summer, the platform
NightSwapping.com
signed a global partnership with the insurance company Allianz.
Launched in 2013, Nightswapping develops the concept of "night exchange" between individuals.
The exchanges work through
virtual money
, the "night", that enables to travel for free everywhere in the world thanks to one's own accommodation: a member that hosts someone during three nights can then be hosted for three nights at another member's home.
The accommodations are evaluated on a 1 to 7 scale. If a member offers a bedroom ranked as a 7, she will be able, in exchange, to spend a night in a 7 room or 7 nights in a room with a 1 rating.
NightSwapping also offers to
purchase nights
for members who do not have rooms to offer themselves. A room with a 1 rating costs 7 euros while a room with a 2 rating costs 14 euros…
For each stay, the platform also pockets a 9.90 euros commission, regardless of the number of nights reserved.
An included and free insurance
From now on, in order to protect users from eventual problems, the platform is working in collaboration with the insurance company
Allianz
.
Accommodation is insured at no cost for each NightSwap for up to 450,000 euros.
The communications service of NightSwapping explains:
"Today, it is mandatory to have a tool that wins the user's trust. We already have an opinion and comments system but adding an insurance reassures the community even more, especially hosts. In general, the last hurdle before subscribing is the lack of guarantee."
The insurance offered by the platform is included and free, globally it covers material, immaterial, and physical damages.
This insurance should reassure users and increase the number of fans of collaborative tourism and nightswapping: today, the website counts over
110 members in 160 countries.
Furthermore, contrarily to Airbnb's users, the members of the Nightswapping community do not pay tourist taxes. Indeed, there is no monetary transaction between accommodators and travelers.
In the end, collaborative tourism stands out as one of the cheapest ways to travel and can now become as safe as traditional tourism.