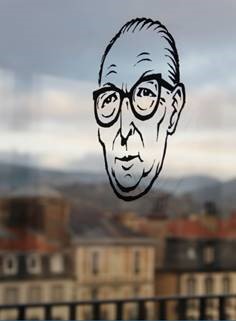 Photo: Alexandre Viallat literary hotel
Created in 2010, the Society of Literary Hotels wants to reveal to clients an author, his work and his world by giving them the opportunity to have access to a hundred of his/her books in the property (translations provided).

Each room features a writer with a little booklet telling about his/her work and biography. Art display and decoration pieces reveal the author's world.
The Alexandre Vialatte literary hotel invites tourists to better discover this author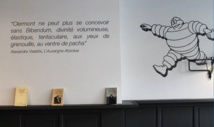 Photo: Hotel Litteraire Alexandre Viallat
Alexandre Vialatte made an impression in Clermont and in Auvergne with his 900 chronicles in La Montagne newspaper and with a literary style he reinvented.

Jacques Letertre, president of the Literary Hotel society stated during the opening of the hotel on November 2016 : « Today, I'd like to share the affection I have for famous writer Alexandre Vialatte who knew how to blend poetry and humour and who wrote about human soul with kindness »

The Alexandre Vialatte literary hotel, 4 **** offers a 180° view on the most beautiful panorama of the region from its terrace on the 6th floor.


This hotel is an invitation to follow the footsteps of writer Alexandre Vialatte and to explore his world in each of its 62 accomodations decorated with watercolours by Jean Aubertin featuring the authors' characters and poetry . Some 500 books ( original editions, rare books, Pocket books) are available to clients to complete this introduction to Alexandre Vialatte.

The hotel also displays a compilation of art pieces (sculptures, bindings, sketches…) which plunges visitors in the creative world of Alexandre Vialatte.

A nice location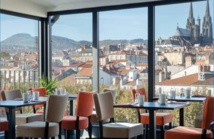 Photo: Hotel Litteraire Alexandre Viallat
Located at the bottom of the city's historic district, nearby beautiful Notre-Dame du Port Roman basilica , the hotel is an excellent start to explore the town where VIalatte lived several years of his life.

The hotel and its unique formula gives the opportunity to discover the many aspects of Clermont Ferrant during a business or a leisure trip.