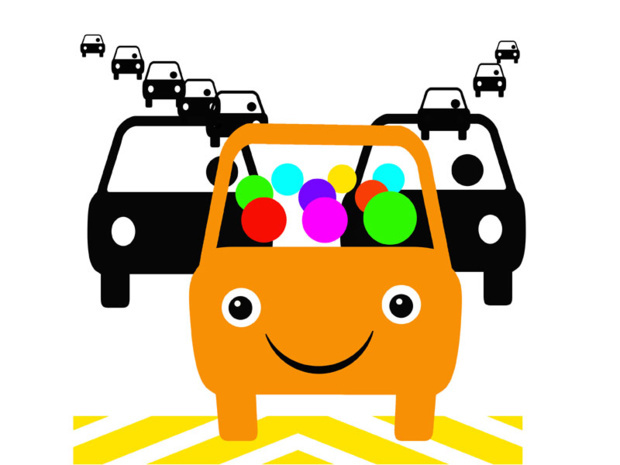 Applications dedicated to urban carpooling are multiplying, to the great despair of taxis. These startups sometimes take advantage of the legal vacuum of the Thévenoud law, but trust in the future, and don't fear an eventually more restrictive legislation. © robert mobley - fotolia
Today, everybody can become a taxi for a day.
Thanks to numerous startups, including the famous UberPop, the owners of a vehicle can get behind their wheel a few hours per week in order to make a bit of extra cash.
But some abuse of this. The drivers of UberPop have sparked the anger of taxis who chastise it for its unfair competition.
And this war is far from being over, because these platforms exploit the loopholes in the Thévenoud law, that prohibits the implementation of a business relationship between individuals.
While waiting for a clarification from the government, these companies continue their development because they respond to a true demand from clients.
Let's take the example of
Heetch
, the fusing of the work "hitch-hiking", created in August 2013. This application puts clients and occasional evening chauffeurs in relation, from 8 pm to 6 am.
A concept that is similar to Uber Pop but that is aimed at night owls.
"We specialized on the night because it is a time when there is a true deficit of taxis.
Our target audience is young people who are between 18-30 years old and who don't usually take taxis. Especially since our rates are on average 10 euros cheaper than Uber,"
explains Teddy Pellerin, one of the co-founders.
Services that take advantage of a legal vacuum
He insists on the
occasional status of his drivers, who all have another main job.
"It is just an additional job to absorb the costs of their car. They are in fact limited to 6,000 euros of income per year."
Then why would the owner of a car enjoy circulating the streets of Paris in the middle of the night to bring slightly drunk party-goers home?
"It is a great way to meet people, but especially to absorb the maintenance costs of a car by working when we feel like it. A small portion also tell us that they are doing this while waiting to get their taxi license."
Heetch pays itself by taking a 20% commission on every trip paid for through its payment platform.
A similar system with
Djump
, another start-up launched in Belgium in June 2013, then developed in Paris in September 2013, and in Lyon in November 2014.
Contrarily to Heetch, Djump only takes a 10% commission at night from 7 pm to 6am.
"We're placing ourselves in the real-time short distance carpooling market, but not only during the night,"
explains Anissia Tcherniaeff, one of the founders.
She also limits the income of each driver to 5,500 euros per year, which is the estimated cost of the maintenance of a vehicle in the Parisian region.
"The donation of the passengers is completely free, and the drivers have no commercial usage of their vehicle, they can just maximize its usage."
She does admit, however,
to benefit from a loophole in the Thévenoud law.
Some drivers of Djump have in fact been arrested by the Boers, the taxi police, to then be let go.
"I expected that because we're positioned in a gray zone of the law."
Yet, she senses no fear in terms of the future of her model.
"The authorities will not be able to do anything against an innovation movement that federates communities."
An optimism that is shared by Teddy Pellerin of Heetch.
"The collaborative economy will surely structure itself, and be supervised. We'll also need to address the issue of taxation. Should we or not tax these additional revenus?"
Reaching a big enough community to generate trips
Before making millions by being a Sunday taxi, these application will need to seduce a large enough community to work. While Uber gathers close to a half million users, the French startups, even the most mature, are counting 5 times less.
At Djump, the application was downloaded 150,000 times, and close to 2,000 drivers circulate in
the three concerned cities: Paris, Brussels and Lyon.
Heetch established itself in Paris, Lille, and Lyon but sounds a bit greedy on the details of its numbers, estimating that its service would have seduced hundreds of drivers for around
100,000 members.
"It is not always easy to evaluate the critical mass that is necessary for the system to work,"
estimates Patrick Clough, the Business and Development Director at Citygoo.
This carpooling service stands out from the two previous ones for its geographic location: the Parisian periphery region. It has today 7,500 members for 2,500 drivers.
"We hope to seduce close to 100,000 people by the end of the year including 1/3 of drivers. This will enable to have one chance out of two of finding a trip. Meanwhile, our first members will need to be a bit patient."
A perseverance that will be awarded by the price, Citygoo promises a rate that is 4 times lower than a taxi.
Develop new platforms for trips in the city
The financial aspect isn't always the only motivation of these startups.
Cyril Lopez, student at the Engineering School of Rennes, has recently launched Urway in order to put party leaders (also called Sam) in relation with the owners of vehicles who may have had too much to drink. This idea that sprouted in his mind after getting his license confiscated.
"It's about inciting sober pedestrians and drunk drivers to get home together safe and sound."
He estimates that around
10,000 active users would be needed for the application to work well, knowing that the city of Rennes has 60,000 students.
In the longer run, he hopes to develop his platform
by integrating all transportation solutions in the Rennes region.
The idea of a global application that would gather the bus, metro, taxis, and new modes of collaborative transportation is far from being Utopia. And the company, Padam, founded in Paris last Fall could be the pioneer.
This startup currently offers a shared minibus service with six seats that does on-demand nighttime transfers, leaving from six Parisian neighborhoods.
Driven by professional drivers, these buses have already transported 1,250 people, and have had zero legal issues.
Padam is now discussing with transportation operators such a Transdey, RATP, or Keolis, in order to help them launch similar models in other cities.
"Our system enables to optimize the launch of a bus line depending on the demand. Collectivities with small budgets can thus divide the costs by two or three, and still provide a transportation offer to their inhabitants,"
explains Grégoire Bonnat, one of the co-founders.
This completely new concept has already inspired other companies abroad, in Helsinki, as well as in the United States. For once, a Frenchy is inspiring the Americans!