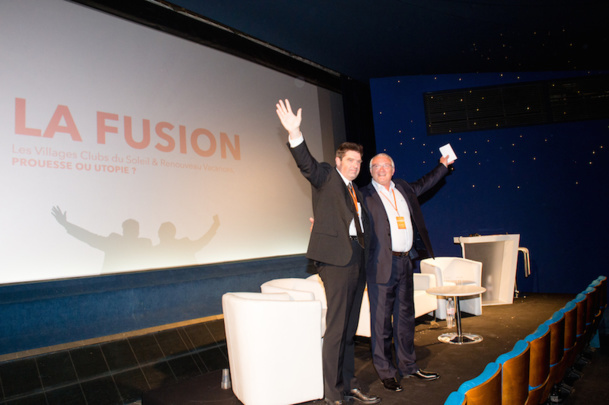 The fusion between two social tourism operators: Villages Clubs du Soleil and Renouveau Vacances. @Sacha Lenormand for Villages Clubs du Soleil
This is a big challenge of the Villages Club du Soleil.
The social and caring tourism operator joined forces on Thursday November 13th with Renouveau Vacances, another player in the sector.
The group currently represents 25 establishments in 23 destinations for 10,000 beds and a business turnover of close to 68 million euros.
Figures that place it on the podium of leaders, with VVF (€74M of CA for 89 sites) and Belambra (€150M of CA for 58 sites.)
But Renouveau Vacances is not in as good of shape.
Following management issues, the group is currently losing three million euros per year. It has in fact sold two of its buildings - Courchevel in 2012 and Agay in 2010 - to face its debts.
"We're going to rationalize management, clarify its offer and simplify its products to get back in balance"
explains Alex Nicolas, president of the Executive Board.
Diversify offers and conquer cities
However the bride doesn't come without a dowry.
It brings new buildings, especially on the ocean front, that the Villages Club du Soleil were lacking since 80% of its activity takes place in altitude.
Thanks to this fusion, that also includes villages in the mountains, the group is becoming the first operator in the mountains before the Club Med, with 7,000 beds.
An offer that attracts tour-operators. In fact, close to half the sales are done through work councils, groups, and tour-operators, such as Thomas Cook, Travelfactory, Lagrande, Leclerc, and especially Look Voyages.
"We're an additional target with Look. It's a win-win partnership, especially since their commission is very reasonable"
insures Alex Nicolas.
This fusion will enable it to diversify its offer on the beach, even if the buildings of Renouveau Vacances are mostly located on the Atlantic coastline.
"We're very interested in the Mediterranean because it's a region where we could have our villages be open all year long. Which makes it easier to sustain our employees"
insures Alex Nicolas.
He stays open to new partnership offers, following the fusion model with Renouveau.
"I refuse to sacrifice my values of social tourism. I don't want to be held accountable by greedy shareholders."
In the meantime, the group is already tackling the South of France with the construction of an urban village with 400 beds in Marseille, on the site of the old Belle de Mai maternity. An investment of €10 M for an opening scheduled in 2016.
Other municipalities have contacted the group, particularly the city of Lyon, to rehabilitate other lands.
Proving that the vacation village concept seems to have a future within cities.