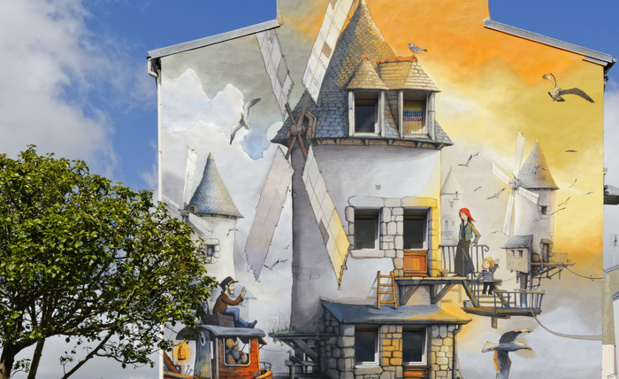 "Les Quatre moulins" mural by Wen 2, a street artist from Brest
"Composed of ten murals, the visit "The walls are talking" is a project that originates from the collaboration of the inhabitants and authorities from the region. These urban art pieces symbolize the commitment of the Brest collectivity in improving living conditions and promoting art and culture at the heart of the city,"
explained Olivier Henne, Development Manager of the Brest tourism office.
This tour is part of a major
revitalization program of Brest's right bank, one of the emblematic neighborhoods of the agglomeration.
The singer
Christophe Miossec is the project's godfather
. Born in Brest, he lives and performs here regularly. His portrait can be admired in the Saint-Martin neighborhood at 18 rue Bugeaud (created by Jef Aerosol as part of the Crime of Minds project.)
The tour with information on each piece can be experienced by connecting here:
https://www.brest.fr/visites-et-balades/les-parcours-de-fresques-2947.html
Posters of the murals are available for free at the tourism office and the city-hall of the Quatre-Moulins neighborhood.
Practical Information