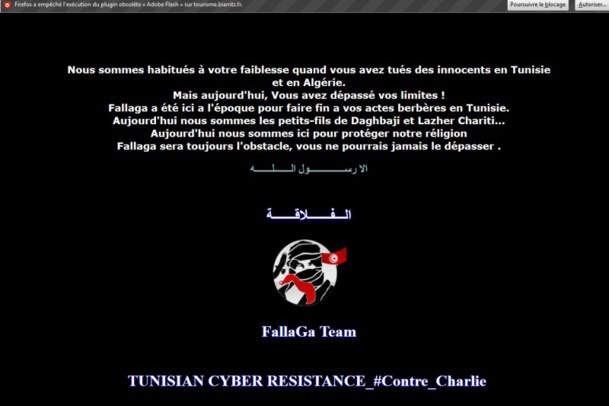 The informal group of web hackers, Anonymous, had announced its willingness to respond to the attack against Charlie-Hebdo that led to 17 deaths.

They kept their word. They asserted their action against dijhadist propaganda websites in the name of freedom of expression and opinion.

But since then, a "cyber-war" has begun.

The other side is responding: "islamist extremist" hackers are attacking thousands of French websites.

In this massive cyberattack targeting city halls, general councils, schools, universities, churches, or companies…tourism offices and other visiting spots have also be touched.
Increased surveillance
The Caen Memorial
, for example, witnessed its homepage display one message in Arabic and another in French affirming:
"I attest that there is only Allah as God. I attest that Muhammed is Allah's messenger."
"It happened last Friday at 3:30 pm. We immediately turned off the server that hosts the site, and we relaunched it on Saturday at 4 pm"
, explains Franck Moulin, Communications Directors of the site.
Since then, the priority is "surveillance" concerning connections and internet access.
Same story for the Biarritz Tourism Office
.
"The platform on which our website is hosted was hacked on Sunday at 4:00 pm,"
explains Olivier Lépine, CEO of the tourism office.
The homepage displayed a black and white message signed by the "Fallaga Team, Algeria and Tunisia" group:
"We're accustomed to your weakness when you killed innocents in Tunisia and Algeria (…) today we're here to protect our religion."
The page was taken down 30 minutes later after an effective operation.
"The strength is being able to react quickly thanks to a great service provider, and even on a Sunday. It had no major consequence,"
he adds.
Update the CMS Drupal
The website of the Memorial center of Oradour-sur-Glane is also one of the hacked websites along with that of the tourism office of the community of the Lauragais-Revel-Sorézois communes.
As for the website of the Palais des Papes and the Pont d'Avignon, they're still under maintenance.
"We had three successive attacks. It's not a symbolic attack against us but pure coincidence.

Our service provider is cleaning up the files,"
explains Carine Meriaux, webmaster of the two websites.
Taking control of the homepage of a website that is neither well protected nor properly updated
"is not a hard task technically speaking and the attack could even be launched in a quasi-automatic manner,"
explains, in the Figaro's columns, Thierry Karsenti, Europe's Technical Director of the computer security company called Checkpoint.
Carine Meriaux confirms:
"These attacks are typical of cybercriminality, like automated Troy Horses.

After my investigation, I've resolved that we need to secure the Content Management System or CMS.

In our case, the fault comes from the CMS Drupal.

So I advise all tourism professionals who use this CMS to update it with the latest version to avoid hacking."
A call for alertness!