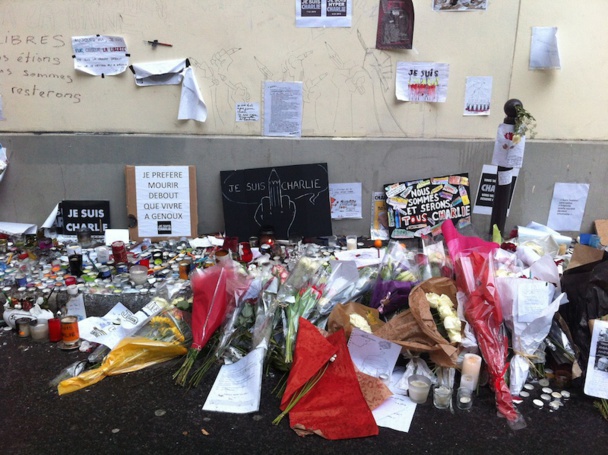 Passersby pay tribute to the journalists of Charlie Hebdo on the sidewalk in front of the newspaper's office in the 11th arrondissement in Paris. DR-LAC
Below this gray Winter sky, a few tourists stroll around the Eiffel tower.
While the wait usually takes hours to climb up the tower,
the lines are almost empty today.
"We're surprised, we could enter without waiting"
exclaims an Irish tourist with her partner.
They express feeling completely reassured and not at all worried after last week's attack.
Same tranquility for an American couple that arrived that morning.
"At first, for a few hours, I wondered if I should cancel"
admits the young woman.
"But it's mostly our family that is worried"
she specifies.
"Some people in our surroundings believed that we were a bit crazy to come to Paris under these conditions"
adds her partner. But both of them do not feel in danger.
"There are cops and militaries everywhere which is reassuring"
she continues.
School groups will be problematic
A family coming from Mexico makes the same observations.
"We live on the border with the United States, so here it's not really dangerous. We know how the media can exaggerate things."
Further, a Spanish couple takes pictures between rain showers.
"My mother advised me to shave my beard before coming"
jokes the young man.
"But I didn't think for second about canceling the trip."
Adjacent, a group of sixty students arrived from Georgia two days after the attack.
"Of course, our parents were worried and didn't want to let us leave. But we were waiting for this trip for so long
.
We really wanted to discover Paris"
exclaims a young girl.
"I really don't have the feeling of being in danger, the city is calm."
Yet, student groups are a clientele that is problematic for incoming agencies.
In fact, the Vigipirate plan has forbidden school field trips in Ile-de-France.
"
The manager of a student group in Germany called us last Wednesday to cancel their trip this week. The parents don't want their kids to take risks"
explains
Perrine Panier
, manager of the Europe Incoming France agency.
While her team doesn't lament over other cancellations, she worries however for incoming agencies.
"I think that clients will hesitate to visit Paris and may choose another capital."
The attacks have not targeted tourist sites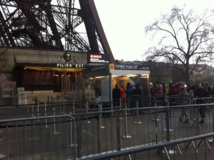 Few visitors at the bottom of the Eiffel Tower in this agitated new year. DR-LAC
Béatrice Graignic
, of the French Travel Partners agency admits feeling reassured that activities have slowed down.
"Thankfully, the attacks have not targeted tourist sites. But if, by some mischance, something were to happen in public transports, it would be catastrophic."
Her offices are located just one hundred meters from those of Charlie Hebdo in the 11th arrondissement.
"One of our partners in Texas asked us if we come to work under the protection of an escort"
she exclaims.
A few streets further, at Intertourisme, the slowing of activities dates back to before the attacks.
But the events will not help improve the situation.
In the attempt of reassuring a worried German client, Frederike Pausch, the agency's manager, advised him to avoid the Eiffel Tower or the Louvre museum.
"I have to find something to tell them. But you know, clients forget quickly, look at the attack on the Marrakech cafe in 2011 for instance or in Bali in 2002. People learn to live with the risk, and thankfully keep on traveling."