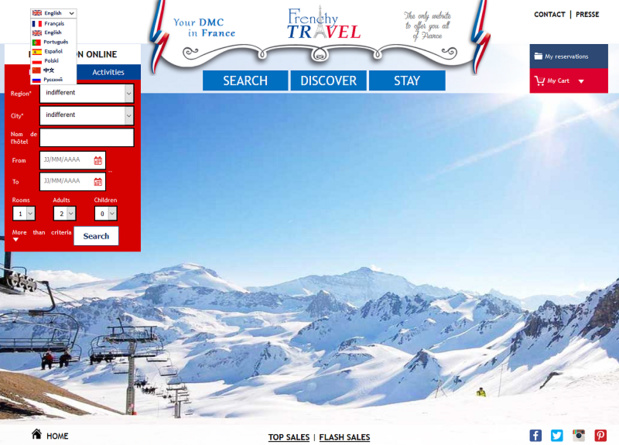 Frenchy Travel will create a structure in Beijing, and a team of Chinese personnel is being crafted in France - DR: Screenshot Frenchy Travel
Officially launched during the IFTM 2014, Frenchy Travel is continuing its development.
The France DMC created by Michel Madi (founder of CrystalTO) just signed
an 8 year contract with a Chinese tour-operator: Beijing Yihe Wantong International Exhibition Co.
"This contract relates to the reception, transfers, hotels, and tours with other European countries, of around 50,000 Chinese clients per year,"
explains a press release.
Frenchy Travel is also going to create a structure in China, in Beijing, and a team of Chinese personnel is being crafted in France. The entire program, including in European countries, will be carried out by Frenchy Travel from France.
The first clients are scheduled for April 2016, the tours extend for around ten days, with an average of 3 to 4 days in France, Paris and province, the remainder being in either Italy, Spain, Greece, or Switzerland.
€2 million in revenues the first year
The DMC is anything but a beginner. Already last September, Qatar Airways' TO, Qatar Airways Holiday, had signed with Frenchy Travel to be their DMC in France.
The operations took off in October 2015.
The year is ending in check with the objective of
€2 million in revenues set for the first year.
"We are also maintaining our 5 year objective of €30 million in revenues. After the Paris attacks, we experienced a small recession but that did not slow down our development,"
confirms Michel Madi.
In addition to Beijing, Frenchy Travel now has an office in
Mumbai, India, and Moscow, Russia.
The tour-operator connected to the ReservIT solution for the hotel reservation sector
also concluded an agreement with GTA,
"on top of our own agreements,"
specifies Michel Madi.
To succeed, he hopes to continue building partnerships. A new important contract could be finalized in the upcoming weeks.
Meanwhile, Frenchy Travel is pursuing marketing actions towards its base of 3,000 TOs and agencies established abroad, and is
preparing a trip to 4 Indian cities.

France : Frenchy Travel à la conquête du marché chinois