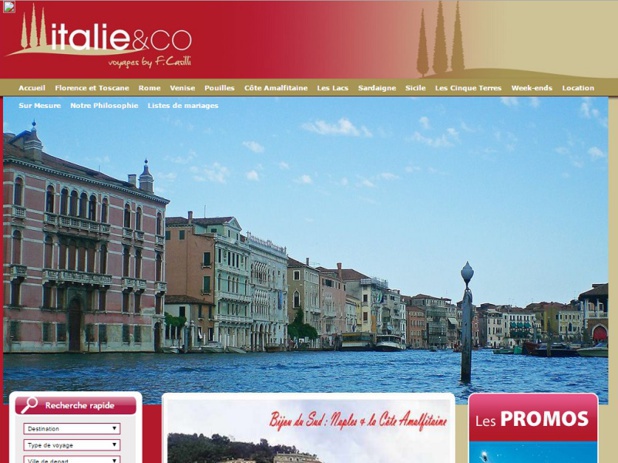 Italie & Co is adapting to confront the multiplication of players on the Italian market - Screenshot
Since Donatello's judicial bankruptcy, the production of touristic trips in Italy is whetting appetites.
Numerous players are thus looking to launch themselves on the market and offers are multiplying.
In this context, the experts on the destination must react. This is what
Italie & Co is doing by publishing a new brochure
aimed at being distributed in willing travel agencies starting September 2015.
"We want to stand out
, explains Fabio Casilli, Director of the tour-operator.
Numerous agencies see us as an incoming agency. With this brochure we're positioning ourselves on an "à la carte" quality production. But not necessarily luxury. We can also adapt to all kinds of budgets."
This brochure presents the company and its approach on the Italian destination. It comes in the form of a wooden tablet on which are placed polaroids. Photos that illustrate the different thematics of the Italie & Co production.
"It is a complete but not exhaustive presentation
, specifies Fabio Casilli.
We illustrate the thematics but not our products.

The goal is for travel agencies to consider us as their ideal partner on Italy."
The brand's new signature
It is in this perceptive that the travel company is acquiring a new brand signature:
"Experienced Creators."
It will be launched with the release of the brochure to highlight the homemade aspect of its production.
An image the TO wants to shine on to prepare for the fight looming over its market.
"The new players have their place, but not the same as ours. They don't have an in-depth knowledge of the Italian destination like we do. Some will be able to make a large volume, but agencies looking for quality will come to us,"
believes Fabio Casilli.
To illustrate his words, he cites his assistance service on which he gives his
personal cell phone number
and that of the 24/7 assistance to travel agencies and their clients.
"Beyond a purely commercial approach, I am idealist and I tell myself that the job isn't done once the trip is sold
, adds the Director of Italie & Co.
It is finished only when the client has returned, and, most importantly, is satisfied."