Photo: RESAFLY
Gain altitude for an unparalleled experience above Provence medieval villages, Cassis dramatic cliffs or above Saint Tropez...

Ted Szymczak, a passionate and professional flight instructor, will make your dream come true with RESAFLY.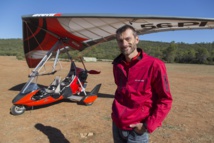 Ted SZYMCZAK photo: RESAFLY
TourMaG.com – Where does the idea of RESAFLY come from ?

Ted Szymczak – It comes from a passion. I wanted to share my passion for flying in ULM and my experience of unique rides in the air.

I discovered people flying for the first time were in demand for something bigger. For more sight seeing and more explanations on what they're doing and what they're seeing while they fly.

We wanted to address the demand and give clients a complete and a one of a kind experience in our beautiful region.

TourMaG.com – Why RESAFLY ?

Ted Szymczak – RESAFLY is a ULM flight premium experience.

It means our clients go on a ride in the air above stunning Provence places.

They can go on a 20mn, 30mn, 45mn or 60mn flight above places we comment in détails so they learn about the region.

In addition to fly like a bird, they discover and learn about the destination they might want to explore furthermore after their flight (natural, religious or historic sites).

TourMaG.com – Who's RESAFLY for ?

Ted Szymczak – There is no specific physical ore techinal requirement for an ULM flight.

The experience is a smooth one.

There is no brutal departure or arrival. No shocks during the flight.

Children, elderers or people with disabilities can go on this magical adventure.

People can also plan an ULM flight in preparation of a trip. For instance, tourists who want to visit wineries might want to to have an overlook at it to get a better idea of the distances between domains, of the itinerary they'll need to narrow down to make the most of their holidays.

TourMaG.com – A different machine for a different flight ?

Ted Szymczak – In an ULM, clients sit like they do on a scooter, with a belt system that ensures a maximum security. A sail above the "scooter" is necessary for this unique flight.

Clients benefit from a panoramic view with no confinement. They are in direct contact with the elements.

It gives them a feeling of total freedom.

TourMaG.com – What does a session look like ?

Ted Szymczak – The session lasts approximatively 2hrs for a 20mn flight.

During a customized reception, clients are briefed on what they are going to experience, what they are going to see during their flight.

The flight is narrated. It covers the destinanion they have chosen

When they come back, clients receive a debriefing and they complete their knowledge of the places discovered during the flight and of the flight itself…

TourMaG.com – What's new for 2017 ?

Ted Szymczak –We are working on new itineraries (region's wineries, Luberon medieval villages, Var's regional parks...