TourMaG.com - What makes the Colmar Christmas market so unique?

Christine Mann: "First, we must remember that Colmar is a very beautiful city!

A city of art and history with an exceptional architectural heritage, it is ideally located at the center of Alsace: at the foot of the Vosges, surrounded on one side by vineyards, and on the other, by the Alsace plain that extends to the Rhin.

And every year, the entire city puts on the colors of Christmas. The atmosphere is authentic and intimate throughout its Five Markets huddled in the city's emblematic plazas. They each have their own ambiance and are connected by a path scattered with lighting effects illuminating the Vieux Colmar.

The miracle happens, but it must be known that behind the scenes the preparation work is massive: maintenance of the little houses, preparing the installations and lights, organizing the entertainment program, selecting the sellers who are chosen based on the quality and relevance of their products."
TourMaG.com - Where are the visitors who come to the market from?

Christine Mann: "There are no specific statistics on the visitor profiles of the Christmas markets in Colmar.

According to a study by the regional tourism observatory of Alsace released in March 2013 of "the Christmas market visitors in Alsace," 83% of visitors in Alsace are French and 17% come from abroad.

More than 4 French visitors out of 10 are residents of Alsace; 13% of French visitors come from Ile-de-France, 10% from Lorraine and 6% from Rhône-Alpes.

The great majority of foreign visitors come from Germany, Belgium, and Switzerland but every language can be heard on the Colmar markets: English, Chinese, Japanese, Korean, Russian, Arabic, Turkish, Hebrew, Dutch, Italian… Tourists from South America can also be found since they tend to be very attached to traditions around Nativity."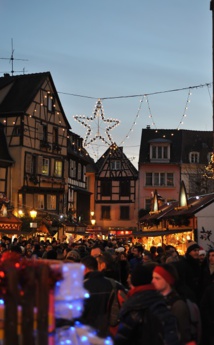 TourMaG.com - What do they like about your market?

Christine Mann: "Our Christmas market is not a purely commercial transplant. Here, the Advent is truly experienced. When our retailers, for which the grand majority is from Alsace, sell a Christmas wreath or specialities that can only be tasted at this time of the year, they know what they are talking about since they perpetuate, in their family, the Alsace traditions transmitted from generation to generation.

There is the same state of the mind amongst the sellers and, of course, the inhabitants of Colmar. The fact that the entire city vibrates in unison mixes very well with this intimate mood, that profoundly characterizes the Christmas magic in Colmar.

All of this is accentuated by the lighting show of the City, aimed at highlighting its heritage in the night sky, but also by the flow of visitors."
Getting to Colmar
By Car
Colmar is linked to all major axes of the European network.
Fast access from all European capitals.
By Train
Colmar is linked either directly or with a connection from major French and European cities.
Direct liaison Paris-Gare de l'Est/ Colmar (duration of 2:30 hours) 3 times a day by the TGV Est European (since June 2007)
By Plane
Colmar is located at an equal distance from 2 international airports: the Strasbourg Entzheim airport at 70 km and the Euroairport of Basel-Mulhouse-Freiburg at 70 km.