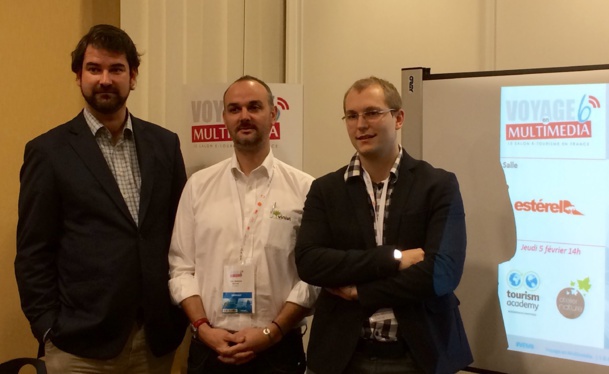 Thomas Yung of Artiref, Gilles Grangier, Director of Vinivi and Thomas Matthieu, founder of Guest App during the workshop «Comments, internalized or externalized management?» during the Travel in multimedia trade-show in Saint-Raphaël © Mathilde Khlat
The Internet enables a business to have a great window, but a comment by an unhappy internet user can destroy everything. Leading to having to start over.

Comments have a growing importance in the processes of research, selection, and even reservation in tourism.

In this context, professionals in the sector have every interest to be preoccupied with their online reputations.

Beyond simple communication, a well managed e-reputation can rapidly become an efficient way to boost one's business.

During a workshop organized during the Travel in Multimedia trade-show, three experts on the topic Thomas Yung of Artiref, Gilles Granger, Director of Vinivi, and Thomas Matthieu, founder of Guest App - looked at the question: should the management of customer comments be internalized or externalized?
An opportunity rather than a threat
Before looking at the question, we have to understand the amplitude of the topic.
"When a travel gives his advice on a website, he becomes a producer of your marketing, he generates content.

One of the worries is that the client is talking nonsense, not all of them, but it only takes one unhappy customer.

It is dangerous to give a part of your marketing to these client-producers.

But there's nothing we can do about it, that is why professionals have to listen and respond, especially to monitor the information that is given on their establishment, to reassert the truth,"
explains Thomas Yung, founder of Artiref.
To then remind that:
"An establishment that wins one point on its ranking on TripAdvisor increases his business turnover by 11.2%."
The expert in e-reputation wants to send a message:
it is completely in the hotelier's interest to "pro-actively" manage his comments, meaning (re)taking control on what the client says of its establishment on the Internet.
Because it is a
"treasure, a web marketing leverage that needs to be exploited,"
he continues.
And despite what we may think, comments are generally positive.
When TripAdvisor analyses 100 million comments, the average grade is 4.08/5 according the data of the referencing operator.
75% of the comments left on this platform have a 4 or 5 out 5 grade.
Internalize with tools
So should the host site handle it himself or should he give the management to someone else?
"The second option is to directly evacuate. No one from outside can be quickly responsive to comments,"
explains Gilles Grander, Founder of Vinivi.
"But if you don't react, you'll leave your e-reputation in the hands of third websites, distributors, search engines, specialized sites.

To react, you should take the initiative of questioning your clients or ask for a third company to do so.

It's a question on the number of comments: only 1% of your clients will spontaneously write an advice. To compare, when Vinivi manages client questionnaires, we reach, on average, 21% responses."
Vinivi, founded in 2006, monitors the trace of hotel comments left by Internet users. A satisfaction questionnaire is sent by mail after the stay.
For the automatic broadcast of comments, Vinivi has license contracts with various players like Trivago,TripAdvisor, and Kayak.
This service costs between 99 and 149 euros monthly. And it is the only company in tourism to offer a service that is 100% NF (Afnor) certified. We'll mention, while we're at it, a few major absentees, who are yet very concerned by this thematic such as Booking, Google, or Facebook.
"Monitoring is our starting point. We have to look at it and monitor efficiently,"
then explains Thomas Matthieu, cofounder of Guest App.
This company born in 2013 offers hotels an application allowing to collect the comments of their clients on location, like a digitalized guest book.
Concretely, from the tablet at the reception, the clients of an establishment can leave a comment in just a few seconds.
A way to collect true comments that certainly have not been written after the stay. A broadcasting contract links them to Zoover and Trivago.
If a negative comment is posted, the hotel is immediately warned by an alert, to minimize the impact of the critic. A starting price at Guest App is 29 euros for a hotel of 100 rooms.
The start-up recently put online a new free service:
Guest Alert.
Today, thanks to new technologies, there are solutions that make the task easier and optimize the management of comments.
Giving customer service
During the workshop, Gilles Granger pointed to the true challenges binding behind a simple customer comment:
"The comment is dead, long live the client!

Booking and TripAdviser had amazing databases of your clients. The real data is there, not in the comments.

In fact, why did Booking launch comments? It is was to verify that someone had truly stayed in a particular place. The hotelier couldn't contradict it."
To those who believe that TripAdviser enables to have comments for free, he responds:
"If it's free, then you're the product! There's obviously an philanthropic reason behind."
Most of the website displaying comments offer widgets that can be put on for free on your website. These websites especially do that to emphasize their legitimacy and generate trafic.
"By setting up the widget, you're giving visibility to these websites, hoteliers have to be aware that by doing so they have taken part in the good referencing of TripAdvisor on Google."
To deepen the topic and have juridic information on the management of comments, Rodolphe Delaunay, e-tourism specialist and CCI trainer, Gilles Granger, founder of the certified comment service Vinivi, and Gérard Haas, lawyer for the Paris bar on intellectual rights, are initiating a white label book aimed at hoteliers.
It will be online on Wednesday, February 11th.
The file, that was recently put online, responds very concisely to 10 fundamental practical questions.