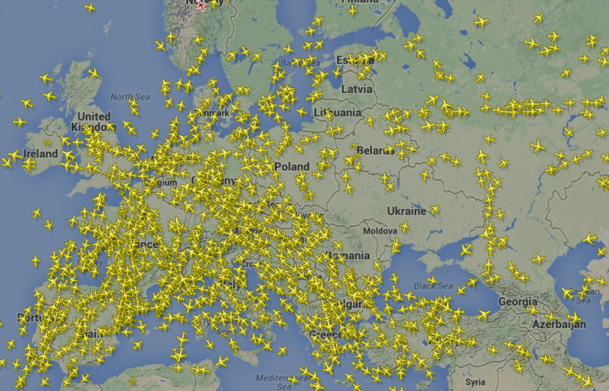 Planes are leaving the Ukrainian air space, as illustrated on this flightradar24.com website. DR
Dark times for Malaysia Airlines…
After its flight MH370 vanished in the Indian Ocean last march, the company experienced yet another tragedy on Thursday July 17th.
Its Boeing-777 linking Amsterdam to Kuala Lumpur disappeared from the radars above Ukraine in the Donetsk region, that is controlled by Pro-Russian separatists.
And yet, a press release by the Malaysian Prime Minister indicates the following:
"The aircraft's flight route was declared safe by the International Civil Aviation Organization and International Air Transportation Association has stated that the airspace the aircraft was traversing was not subject to restrictions."
Besides, the flight didn't transmit a distress signal. Yet, onboard, all 280 passengers and 15 crew members have died in the crash.
The minister of Foreign Affairs, Laurent Fabius, has no certainty of the eventual presence of French passengers onboard. He had declared earlier that four French citizens may have boarded in Amsterdam in the evening.
According to the Ministry of Foreign Affairs, this information is hard to confirm because the company has not yet released the list of passengers.
We also know that amongst the passengers, dozens of Dutch citizens were onboard because the flight is in code-share with KLM.
The company has also decided to stop flying over the concerned territory to get to the other connection going to Kuala Lumpur.
As for Air France, that stopped flying over Crimea last April 3rd, it has also decide to not fly over the Eastern Ukraine region, bordering Russia.
Lufthansa, Turkish Airlines, Delta have also decided to cease flying over the entire country.
The DGAC has also published a press release instructing French companies to avoid traversing the Ukrainian air space as long as the reasons around this catastrophe are not made clear.
The plane was most probably shot down by a missile
According to various sources, the aircraft has been shot down by a missile as it was flying at its cruising altitude of around 10,000 meters.
"It was a homing missile that senses warm areas in the back of the plane"
explains David Sprecher, a lawyer specialized in tourism and civilian aviation law.
Pro-Russian separatists and Ukrainian militaries blame the tragedy on one another.
The conflict has been going on for many months in this region of the world.
Tourism professionals, were by the way quite pessimistic on the country's tourism future.
This new crash revives the debate around the appropriateness of flying over politically unstable regions.
The European agency of air security had recommended against flying over Crimea as of last April 3rd.
But the rest of the country was not prohibited, including the Donetsk region where the crash took place.
"Generally, air transport companies' insurance providers will decide, depending on the risks, whether they wish to cover a company that chooses to fly over conflict-ridden territory."
assures David Sprecher
Following the crash, the Ukrainian authorities closed all air traffic over the eastern part of the country according to
Eurocontrol
.
Travel agencies are not liable
In any case, travel agencies will not be liable.

In fact, they only have an obligation of informing and advising by basing themselves off the advices provided on the website of the Minister of Foreign Affaire, which had not prohibited Ukraine.

While Malaysia was recently considered one of the world's safest company, its future seems more and more gloomy, even though the catastrophe was due to external causes.

Already affected by the dramatic experience of the MH370 flight, Malaysia that is confronted by the fierce competition of low cost Asian companies for long haul flights, could see its market shares collapse once more.

Furthermore, let's admit that the communication on the crisis is ineffective to say the least.

Already criticized for its vagueness during the disappearance of the MH370 flight, at the time this article was written*, the company still had not published a list of the victims and their nationalities.

We can only imagine the anxiety of close ones…



(*) at the time of the original article published in French. (translator's note)