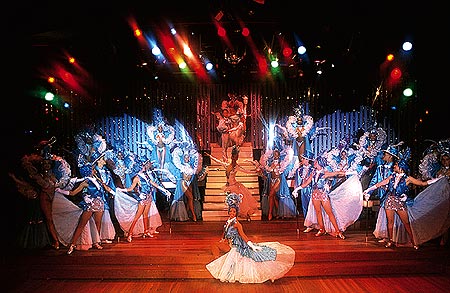 14 institutions gather this week to promote the festive and glamourous side of Paris. Dedicated to Parisian cabarets, this event invites participants to discover or to better understand one of the most emblematic French entertainments, the Cabaret.
Animations and a fun competition-like quizz named « Which Parisian cabaret are you ? », give Paris lovers the opportunity to discover
the richness of this entertainment industry and to win an exceptional getaway with one night in a luxury hotel and one evening in one of the four
most prestigious Parisian cabarets (Lido, Paradis Latin, Moulin Rouge, Crazy Horse).
« This operation emphasizes the important range of choices in the French Cabaret industry: Humour, fun, magic, circus... There is something for everyone, for every budget, in every Parisian neighbourhoods: Paris aficionados will love it », says Bruno Julliard, Major Deputy in Paris City Hall.
« Parisian cabarets are an indispensable institution in Paris one should experience at least once in his/her life. This week is
the
opportunity to promote Parisian entertainment and "joie de vivre" to French and foreigners » states Jean-François Martins, Deputy Mayor in charge of Sports and Tourism at Paris City Hall.
French version