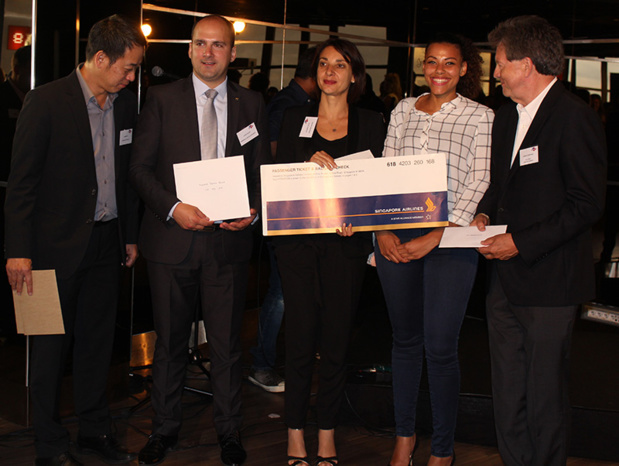 Winner of a roundtrip flight Paris-Singapore offered by the partners of the Singapore Tourism Office during the event - DR
TourMaG.com - What was the goal of the workshop-cocktail that you organized in Paris?

Isabelle Du Plessix: Every year we organize this gathering with our partners but, since Singapore is celebrating its 50 year anniversary, we chose a prestigious place that specifically honors the destination: the 56th floor of the Montparnasse tower on which we can enjoy a panoramic view on the city, as is often the case in Singapore's towers.

Thanks to our partners, we were able to gift a trip to Singapore during the event (winner: Maeva Pintor from Liaisons Mondiales) that includes one entrance to Gardens by the Bay and a city tour.

Finally, this event had the objective of giving momentum to French tourism in the country since the visitor rates are at a 2% decrease in 2014, even though France remains the 3rd most important provider of European tourists.

TourMaG.com - What are the reasons for this decrease?

Isabelle Du Plessix: This drop is due to the disadvantageous exchange rate for French travelers due to a high local currency, combined with the economic hardships in France.

Furthermore, Singapore is often a few day lay-over before heading to Indonesia or Malaysia, essentially Muslim countries that are suffering from a drop in visitors due to the risks of terrorism. This explains why the City-State of Singapore is also experiencing a general decrease in travelers.
TourMaG.com - What are the newest developments in Singapore?

Isabelle Du Plessix: 2015 is the Jubilee Year, meaning it will be rich in celebrations and festivals.

Amongst the main newest developments: Paris' Picture Gallery is being exported for the first time abroad, in Singapore, and the most important Modern Art museum of South East Asia, the National Gallery Singapore, will open its doors in November 2015, after 5 years of construction.

Finally, Singapore's Botanical Gardens were listed at a UNESCO World Heritage Site on July 4th, 2015. They are the first and only tropical botanical gardens out of the 1,000 sites listed by UNESCO but, above all, it is the first time that a site in Singapore is listed at a World Heritage site. A wonderful gift for the country's 50 year anniversary!