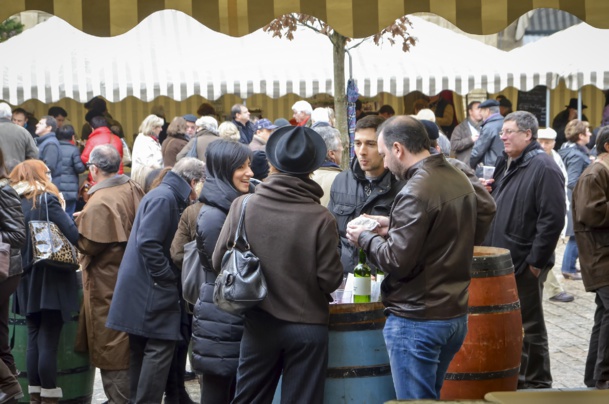 Black truffles of Périgord - DR: Mathieu Anglada
Between Bordeaux and Toulouse (around 200 kilometers), at the heart of our South-East region that smells great of the French terroir, Sarlat proudly carries throughout the year the traditions of French cuisine.

The black truffle is its famous product.

Rare, it grows - sometimes - on the roots of holm oak trees, linden, hazel trees. As the fruit of a mushroom, it blooms in May, grows during the summer, and is harvested from November to February.

Since 5 years, Sarlat celebrates the truffle in style by combining it for a weekend in mid-January with the "Jean Rougié Trophy." This is a competition that unites young talents of French cuisine and honors the culinary Academy of the truffle and foie gras.

The 2015 edition will be the most memorable. With the participation of 17 Michelin starred chefs and MOF (Best Craftsman of France), the jury was presided by Joël Robuchon, the most "starred' chef in the world (25 in total.)
"A capricious, random, mysterious and unknown delicacy"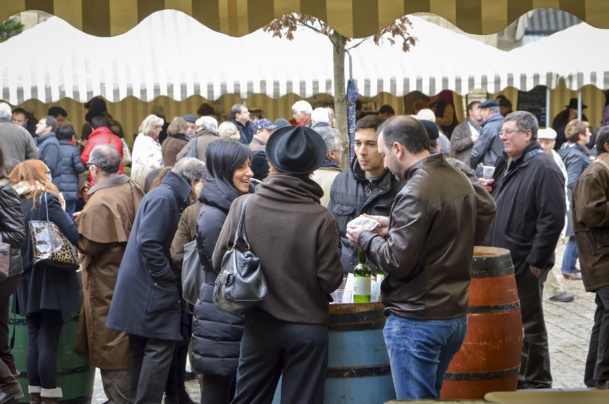 A friendly, warm, and festive gathering on the market plaza in front of city hall - DR : Mika
Everybody can participate in this "starred", warm and festive weekend to savor the local specialities on the market plaza, a world-famous market.

Cooking courses on foie gras and truffle, oenology on the wines of Bergerac, animated conferences by professionals and cooking demonstrations are freely offered to the public.

Cooking workshop "Little Chefs" are even organized for children.

"The truffle remains a little known delicacy. It is mysterious, random. We don't know how to make it grow.

To fully mature, it needs lots of factors, land, climatic conditions.

It can neither stand warmth nor frost but there is also no set recipe. It would be known if it could be cultivated."

Philippe Blanc, preceded by his dog, gives us a tour of his truffle crop that overlooks the pretty Saint-Quentin hamlet just 10 minutes from Sarlat. He's new to the truffle cultivating job. He planted his first holm oaks 15 years ago. But he makes a living as a postman.

Sarlat hosts one of the rare certified bulk market of the truffle. Open to the public, it is rather "uncertain."

On Saturday January 10th, 2015, 76 kilos of black truffles were sold. It was a good day. As for the price, it's not regulated, and can go from 700 to 1,200 euros (or more) per kilo. It depends on the merchant, the client, the harvest, the mood…

Sarlat created in 2009 the first bulk market of truffles in Aquitaine. Professionals and merchants met there every wednesday. A controlled and retail market also takes place every Saturday morning in season.

The city could attract us with its terroir products and culinary art… but no. It also attracts us with its character, architecture, history.

A preserved medieval city thanks to André Malraux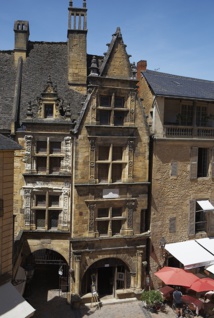 The birthplace of La Boétie at the heart of the medieval city - DR : Mathieu Anglada
Everything begins in the high Middle Ages in the shadows of an abbey from the Carolingian time, the only one of its kind in Périgord according to history, that was spared from the Viking invasions.

The city of Salart will develop and will become an important pilgrimage center.

An Abbey Seigneury then a Bishop's palace at the start of 1318, Sarlat will quickly stand as a prosperous merchant city. It will be adorned throughout the centuries with superb Roman and then Gothic buildings.

The Renaissance will bring on new signs of wealth. Wonderful intramural private mansions will be built such as the Gisson manor. It can be visited and gives us a glimpse of the world of the Salart bourgeoisie of the 17th century.

Sarlat will suffer from its loyalty to France's King during the revolution by losing its Bishop palace, its strength, and power to the profit of Périgueux and Bergerac.

Sarlat was then forgotten. Thanks to that and André Malraux, Minister of Culture under the presidency of the General Charles de Gaulle, the city was preserved perfectly.

In 1964, the capital of Périgord noir becomes one of the 4 pilot countries in the application of the Malraux law. It is now proud of this unique particularity in Europe: all of its 11 "intra-muros" acres are listed as historical monuments.

As it became a "Historic and Art City", Sarlat is undergoing a new gold age. Along its little streets, these listed and classified monuments are retrieving their beauty from before, its plaza comes alive all year long.

And its market are world famous.

France's 3rd film shooting site after Paris and Nice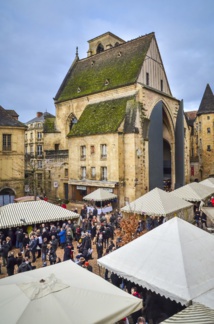 Market day in Sarlat. At the end is the ancient Sainte-Marie church, converted into an open air market, with its monumental door, a creation of the Jean Nouvel architect - DR
Its mansion bordered streets and beautiful ancestral houses - including Boétie's birthplace (born in 1530) in front of the Episcopal Palace - offer a picture perfect scenery.

Theater masters were not mistaken.

Sarlat is now the front stage of one of the largest theater festival. The city is appreciated by many film directors of cape and sword types films and of historical reconstitutions. It became the third film shooting center in France after Paris and Nice.

Sarlat's grounds witnessed, among many films, Le Capitaine Fracasse, La Fille de d'Artagnan (Bertrand Tavernier), les Misérables (Robert Hossein), Jacquou le Croquant, Cartouche, Jeanne d'Arc by Luc Besson, the investigator Nicolas Le Floch etc. Since 1991, an annual film festival takes place every November.

To Sarlat's prestige, we can add Jean Nouvel's signature touch.

The architect who spent his childhood in the medieval city converted the ancient Sainte-Marie church in an open air market. He added a monumental door as well as a panoramic elevator that provides a unique 360 degree view on the ramparts, the entangled roofs, and private mansions.




The main promoter of the destination is Sarlat's Tourism Office, that is the mastermind behind all the events that animate life in Sarlat. It is also the incoming operator for individual tourism and for group clientele.
www.sarlatgroupes.com
The local tourism organism is registered in the Trip and Travel Operators registry under the number IM024120004.
Sarlat throughout the year:
The truffle celebration and foie gras and truffle academy: mid-january.
The liver and foie gras celebration: mid-February (terroir products, activities, gourmet meals, cooking workshops etc.)
Terroir Days: late May. Highlighting the agricultural specialties of the territory (tastings and activities. Farm animals, organic section, and workshops for children.)
Theater Festival: last two weeks of July (Open air shows of classic and contemporary plays.)
Film Festival: mid-November
Christmas market: from December 6-31st.
The bulk truffle markets and retail markets are open from mid-November to late February.