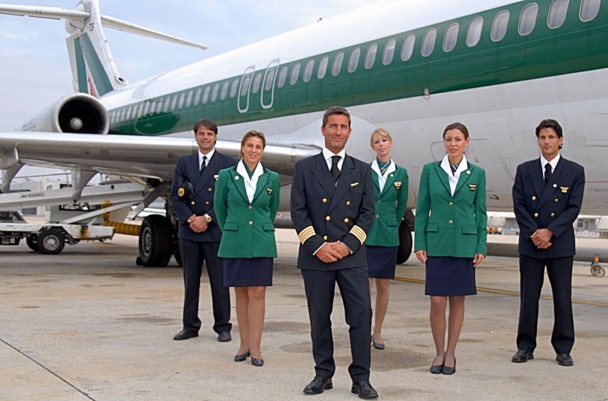 The restructuring plans involves the elimination of 2,171 jobs (1625 ground, 126 pilots and 420 aircrew personnel) - which will save 31 millions on personnel expenditure. (photo dr)
Will Alitalia become "Europe's sexiest company" as stated James Hogan, the CEO of Etihad while in Rome for the press conference following the signing of this strategic agreement?

This may certainly take a few more months' work, but after all, it has taken almost a year of negotiating to conclude with a 49% participation rate of Etihad in the Italian company.

The social plan that new investors demanded along with the debt restructuring of more than one billion euros were the two most difficult obstacles to overcome.

At first, Etihad will invest 388 million euros in the company, with 112 million for a 75% participation in a branch handling the rewards program and 60 millions into purchasing Alitalia slots in Heathrow's airport.

The arrival of Etihad with this a 560 million investment will be accompanied by a recapitalization of 300 million brought forth by current shareholders - 88 millions by the Intesa Sanpaolo bank, 75 million by Post Italiane, 63.5 million by Unicredit, 51 millions by Atlantica, 10 millions by IMMSI, 10 millions by Perelli and 2.5 millions by Gavio.

These shareholders are expected to meet for a holding that will account for 51% of the round.
Agreements with Air France should subsist
Moreover, some current creditors bring 598 millions to the debt renegotiation that exceeds one billion euros and banks should also grant a credit line of 300 million.

Which brings a total of 1.75 billion euros for Alitalia to relaunch itself.

However, there is one last challenge before the deployment of the restructuring plan: convince the competing european authorities of the immovable property of the project.

Then the company will start restructuring: 2171 jobs will be sacrificed (1625 ground, 126 pilots, and 420 air crew personnel) - which should save up to 31 million on personnel expenditures.

The network will be expanded through a dozen long-haul lines, particularly leaving from Rome.

Starting the summer 2015, flights towards Abu Dhabi will be developed leaving from various platforms (Venice, Blogoña) and commercial agreement with companies already linked to Etihad will be established - following the example of the one signed yesterday with Air Seychelles.

A new Premium service could be deployed at the start of next year. A cargo hub will also be installed in the north of Italy, in all likelihood in Milan Malpensa.

Finally, James Hogan has made it clear that the agreements with Skyteam of which Alitalia is a member will not be suspended: the transatlantic joint venture with Air France/KLM and Delta.

The joint venture with Air France on the French-Italian route should also not be challenged even though Air France/KLM held 7% of the shares, Alitalia did not participate in the recapitalization of 300 million of which proceeded shareholders.