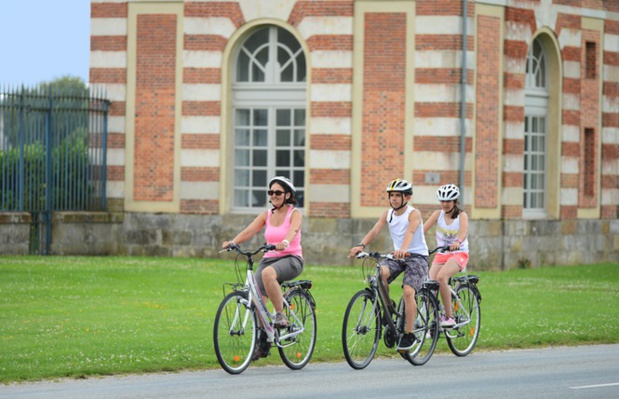 Biking in le Perche (photo: Joël Damase)
Where
?
In the stretch of Illiers Combray/Nogent-le-Rotrou of Véloscénie (43 km) via Thiron-Gardais: a two-wheel biking trail with small roads and breathtaking views.
Why
?
"From the cradle of Marcel Proust's work (Illiers Combray) going through the themed gardens of the Thiron-Gardais abbey, to the Saint-Jean castle, this tour is a condensed experience of terroir and countryside,"
explains Vincent Garnier, Director of the Regional Tourism Committee of Centre-Val de Loire.
What to do?
Hunt for antiques! This is a true heaven for vintage lovers, le Perche is home to lots of antique dealers. Right from the start of April, the season is in full swing with garage sales and antique markets. The stops of the Nogent-le-Rotrou coast are very pleasant for an open-air shopping experience.
Where to sleep?
O bon'heur
, a little guest house located at the heart of Frazé, a charming village of Perche. Labelled as a Bike Friendly spot, this pleasant stop is available for a great rate (€60 double room) with a terrace adjacent to the rooms, a restaurant, and a grocery store with products from Perche…
www.o-bon-heure.fr
Practical Information
To prepare a biking trip
www.marandoavelo.fr
How to get to le Perche?
Airports
Orly : (75 kms): 1 hour driving
Roissy Charles de Gaulle (120 kms): 2 hours driving
Ferries
Ferry terminal of Caen/Ouistreham – 120kms/Mortagne au Perche.
Road access
A 11
: Paris / Chartres / Le Mans / Nantes or Rennes
Exit N°4 : --Brou-Frazé: les manoirs du Perche (74kms /Paris)
A 13 / RN12
: ◦Paris/ Dreux/ Verneuil sur Avre/ Mortagne au Perche/Alençon (120- 150kms/Paris)
Train
Paris – Gare Montparnasse/Paris –Granville : Stops at Verneuil sur Avre – l'Aigle
Paris – Le Mans : Stops at La Loupe – Condé sur Huisne - Nogent le Rotrou – le Theil-laRouge
www.voyages-sncf.com
Centre-Val de Loire: le Perche, la campagne arty à vélo