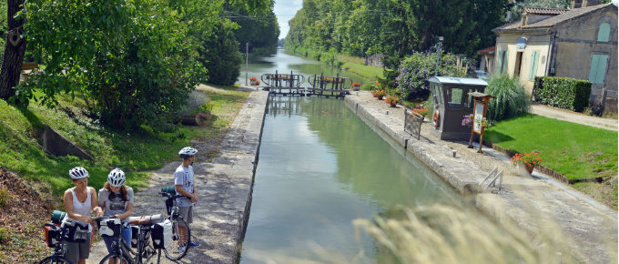 Canal de Garonne
This itinerary
of nearly 800 km, from Royan to Sète,
complements a tour de France on bike, by linking the Via Rhôna, Loire by bike and the Vélodyssée.
"A true touristic product of international standing, this green lane borders the canal of the 2 seas for a large portion, crossing exceptional sites and famous vineyards, at the heart of natural preserved spaces.

Among the unmissable sites stands the Canal de Garonne that runs along the river for 193 km, marked by 53 locks and several canal-bridges including the famous Agen canal-bridge, the second longest canal-bridge in France that was entirely built with dressed-stones.

The itinerary also includes the Canal du Midi… It is a gem of French ingenuity that links Toulouse to the Mediterranean via the waterway for nearly 250 km. Listed as a UNESCO world site, the Canal du Midi is loved by boaters and hikers.

It is also possible to discover Royan, the Gironde estuary, Bordeaux, Agen, Moissac, Toulouse, Carcassonne, Béziers, Sète, lots of unmissable stops in the South with sun, conviviality, and a rich heritage to explore,"
explain the managers of the Canal des 2 mers by bike project.
A very practical
website
with all of the stretches of the itinerary, unmissable visits, and detailed maps allows to get around on the path easily.

map of canal des 2 mers by bike