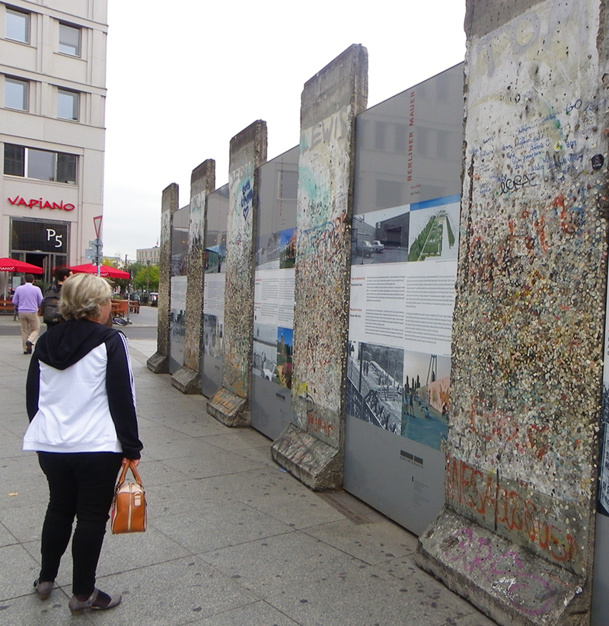 The memory of the Wall is still alive. From Check Point Charlie to Postdamer Platz, of Bernauer Strasse in the East Side Gallery and its long stretch of 1.2km, a wall painted by 118 artists of 21 countries, the incoming of tourists confirms this maintained interest - DR: M.B.
On November 9th, 2014, Berlin will celebrate the 25th anniversary of the Wall's collapse.

Exhibits and events will light up this city whose urban transformation has turned it into a true touristic destination.

For example, to celebrate this event, a line of lit up balloons will be elevated in the sky on the 12 kilometer stretch of this Wall, that during a quarter century, divided the city and its inhabitants.

Since the reunification, projects multiplied to rejuvenate Berlin's face. Architects have mobilized.

Building, renovating, drilling under the famous Unter Den Linden Avenue, a major axis that links the Brandenburg Gate to Alexander Platz, to set up a metro line.

Berlin is progressively looking like an influential capital again, a status that had been lost because of the second world war and the establishment of the Wall.

"Nostalgia of the Wall" and the GDR
The first impression the visitor gets: the remnants of the second world war are discreet, as if this part of history is trying to be forgotten.

However, the memory of the Wall is everywhere and often highlighted for tourists.

From Check Point Charlie to Postdamer Platz, of Bernauer Strasse in the East Side Gallery and its long stretch of 1.2km, a wall painted by 118 artists of 21 countries, the large flow of tourists to these sites confirms this strong interest.

We recommend a visit to the GDR museum, adjacent to the Cathedral.

In a playful stage set, younger visitors will explore everyday objects, household accessories, magazines, toys, and food products of the time of the Iron Curtain, in an entertaining arrangement.

Opened less than a year ago, the Kulturbrauerei complements this nostalgia for the GDR, with a permanent exhibit of original objects, films, and sound bits of everyday life of a period both distant and close.

This period becomes more romanticized by some Berliners as it gets blurrier over time.
The new "spot" of urban tourism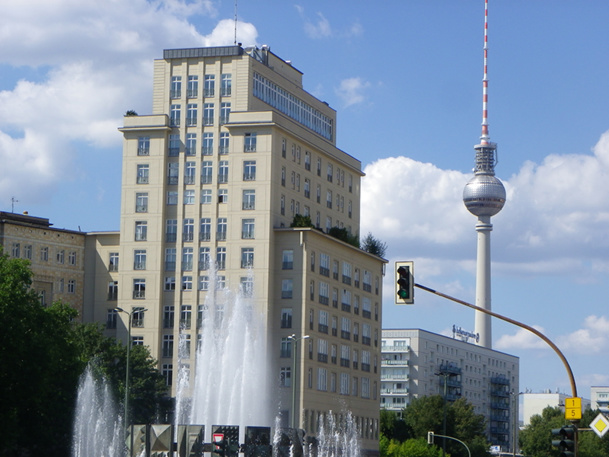 Plan a 5 day trip minimum by including a day dedicated to the Schloss Sanssouci Castle and its magnificent park in Postdam, the ancient Prussian city under renovation.

This city is very accessible by train (S1 or S7 or regionals) for a few euros.

First (great) surprise to the visitor, Berlin is one of Europe's cheapest cities. Hotel and restaurant prices are particularly reasonable.

And the city attracts and seduces young European creative souls that contribute to its dynamism.

Modern buildings stand next to art déco and Bauhaus establishments that resisted the war's destruction.

But it is also a "green" city with large urban parks (Tiergarten, Tempelhofer Freiheit, Grunewald…) that you can explore through a network of public transportation (bus, train, metro, tramway) that is dense and efficient.

Berlin is a cultural urban center, with close to 180 museums, including the Museum island with its breathtaking collections (Ishtar Gate; Pergamon Altar; Nefertiti) and close to 440 galleries.

It is the only capital with three operas, eight orchestras, including the famous Berlin philarmonic, 150 theaters and a strong tradition of cabarets with "Friedrichstadt-Palast", the largest cabaret in Europe up there with Las Vegas, or the Chameleon, creator of innovative shows.

In 2013, with 11.3 million visitors, the city exceeded 26.9 million night stays, making it to the top 3 European urban destinations with Paris and London.

Finally, this "shopping" city has various large shopping malls such as the Galeries Lafayette, recently opened in a building designed by Jean Nouvel, but also the KaDeWe on the Kurfürstendamm, a commercial artery which is a large shopping center, where it is recommended to visit, just to please the eyes , the restaurant on the 6th floor.

Discovering the city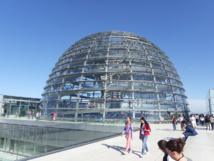 The Reischstag Dome - DR : M.B.
- Don't hesitate to hop on tourist buses (red or yellow) that provide a great visibility of the city's geography, and then add a cruise on the Spree (an hour long tour for approximately €9)
-To access the Reischstag Dome (free access), reserve on the website
www.bundestag.com
- To ascend the Television Tower that is 368 meters high and gives a panoramic view of the city, reserve at:
www.tv-turm.de.
- For the Museum Island, get "no-queue tickets", which are very necessary.
A few great places and advices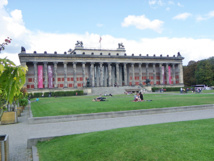 The Berlin Museum Pass (€24 for 3 days) gives access to most museums - DR: M.B.
Accommodation

We recommend the Gat Point Charlie 3 star hotel with is high-tech aesthetic, and affordable rooms.

Located close to the very touristic Check Point Charlie, we can access it from the (U) Stadmitte metro station, 150 meters away. Its location enables to reach all different parts of the city and even beyond, thanks to the perfect connections with the (S) train.

It is also very close to the Gendarmenmarkt, one of Berlin's most beautiful plazas, with its baroque architecture and German and French churches, a relic of the Huguenot refugees.

On this plaza, we recommend the Italian restaurant Amici and its room on the first floor that overlooks the plaza. Romantic at nightfall.

To get around

Don't hesitate getting the Berlin WelcomeCard (2.5 or 5 days) from €18.50 to €31.50, that provides free access to all transportation systems (bus, metro, tram) and great discounts for many attractions and museums.

Cabaret
Cabaret is part of Berlin's genetic make-up. To discover this tradition, it is important to go to a show at the Chameleon, a surprising cabaret located on the first floor of a building that overlooks a busy courtyard with boutiques and restaurants, Hackesche Hôfe.

The latest show, Crossroad, is breathtaking with incredible acrobats, and an equally impressive singer able to go from Opera singing to Hard Rock from one instant to the next. A must see!