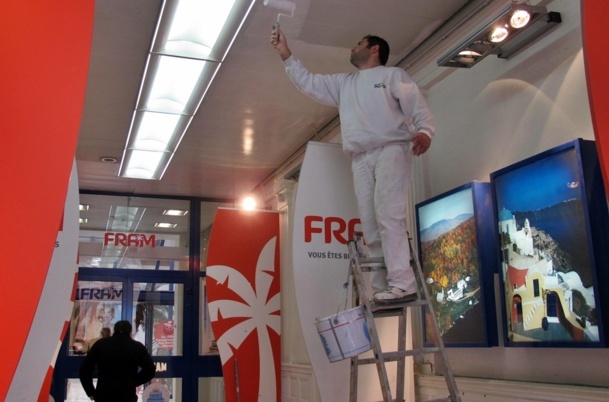 Is Voyages Fram ready for a façade makeover from walls to ceiling? /photo JDL
It took time…but it has arrived at last!

After an intense back and forth in communication between the HNA group and Fram, on this weekend of October it is finally concluded: the group HNA made an "in bonis" offer for the purchase of Fram…

Throughout the weekend, the Chinese group indeed "stepped up a gear." After an exchange of communications and the modification of a some "details," it finally took the plunge.

Admittedly, time was of the essence. The CIRI, that should schedule a meeting in the coming days, had clearly expressed its preference for the group Karavel and, according to our information, would have clearly backed shareholders into a corner.

Indeed, after Fram appeared at the Commercial Court, the shareholders would have been "formally notified" to accept the offer of Promovac/Karavel, "on penalty of being held criminally liable" of Fram's bankruptcy!

Enough to send shivers down the spines of Georges Colson and Marie-Christine Chaubet…
An acquisition without having to file for bankruptcy
Yet, according to our information, Selectour Afat's Board of Directors from last July 31st, took the decision, in partnership with HNA, to make a firm offer to buyout all of the titles currently held by FRAM's shareholders.

Contrarily to that of Promovac, this offer of HNA - Selectour Afat is "in bonis", in other words, without needing to go through the (crushing?) step of filing for bankruptcy.

An offer that would protect the brand's value but also travel agents towards their clients (for already paid installments) along with FRAM's direct clients (guarantee of delivery of services) and employees.

Another equally important advantage: APST will not have to take out its wallet. Indeed, the two buyers would commit to paying the providers and State (social debts) under a protocol.

Of course, this does not mean that the buyers will keep everybody. According to a source close to the case, 20% of the personnel would be subjected to a Redundancy Security Plan as part of the project.
The two buyers will have to pay 40 million euros
The business and destiny of this tour-operator from Toulouse now rest in the hands of shareholders and Works Council, who must make a decision in the next few hours.
If all parties approve the acquisition of FRAM, the two buyers will have to pay 40 million euros - an amount paid in advance mainly by the Chinese group - to offer itself to the Toulouse tour-operator.
A transaction that will go through the creation of a holding company of which the capital - 5 million euros - will be held 90% by HNA and 10% by Selectour Afat.
Which accounts for an investment of around 500,000 euros for the travel agencies network. The amount should be taken from the reserves of the cooperative Selectour Afat.
In this way, the created company will repurchase Voyages Fram and should invest 25 million euros in its treasury, in the form of share premiums.
Part of the funds - around 10 million euros - is aimed at the tour-operator's shareholders: Marie-Christine Chaubet, Georges Colson, Air France Finance and the Colson/Chaubet family. They will divided up through a pro-rata of the shares that each individual owns in Fram's capital. (*)
Under this set-up, HNA becomes the majority shareholder of the tour-operator.
(*) The payment of the essential part of the price would be bond under a "better fortunes clause" of FRAM.
Who is HNA?
This Chinese group, owner of the airline company Hainan Airlines, operates mainly in the airline sector.

It is already present on the French market since it integrated Aigle Azur's capital in 2012 to develop flights between France and China.

Furthermore, the group is currently discussing with Air Tahiti Nui to increase service to Polynesia through a codeshare agreement or interline agreement.

Also, Hainan Airlines already operates in France. Specifically, it manages three weekly flights towards Hangzhou-Xiaoshan, its base, leaving from Roissy-Charles de Gaulle, since September 2014.

In March 2013, the Chinese group also announced placing an order worth 7 billion euros to purchase 30 Boeing B787-900 to develop international flights.

But HNA is also diversifying its sectors of activity. It signed a Memorandum of Understanding for the purpose of a strategic partnership with Pierre & Vacances in July 2015. The goal being to develop the brand's concept along with that of Center Parks in China.

A development that enables HNA to be ranked in the list of the world's 500 largest fortunes, according to Fortune magazine.

It displays a net operational benefit of 223 million euros, meaning a growth of 232%, for the first semester of 2015, and has just concluded the purchase of Swissport, a group on airport assistance and sub-contracting for an amount of 2.5 billion euros.