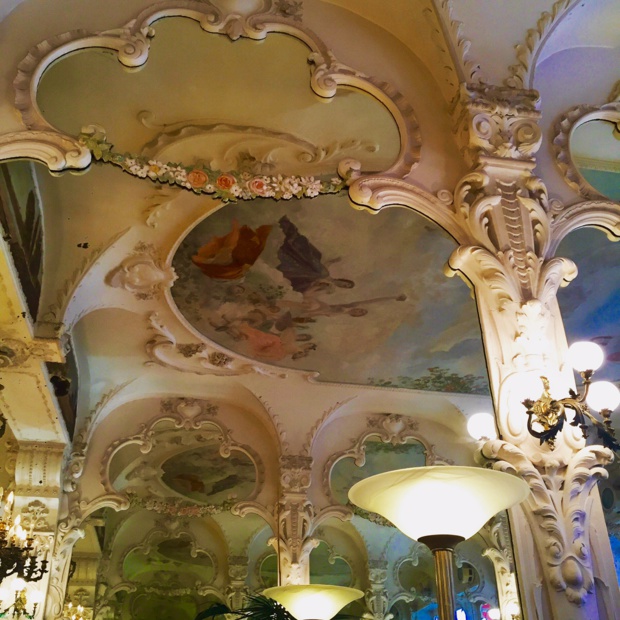 Le Grand Café of Moulins
This cafe is set in an impressive decor.

Recently restored, the façade of the Grand Café, in Moulins, Allier, with its art deco woodwork, opens onto a large room that still feels imposing with its infinitive perspectives and the reflection of gigantic mirrors facing each other, it immediately makes the visitor travel into the prestigious past of this Belle Epoque facility.

Today, le Grand Café is a traditional brasserie with a menu representative of the Bourbonnaise cuisine through different typical dishes like the charolais steak or calf's head.

Of all the celebrities who shaped the cafe's reputation, Coco Chanel is the most famous one.

In the footsteps of Coco Chanel
"When she was 20, Gabrielle Chanel was employed in a tailoring company from Moulins, the GRAM-PAYRE company.

At night, she would go to the Grand Café that was mostly patronized by officiers of the garnison and was always filled with a lively ambiance.

She was hired as a "pauser", meaning a second-class singer whose job it was to fill the silences in-between acts. Legend has it that she was very triumphant in these beginnings.

She became famous thanks to one song in particular "Qui a vu Coco dans l'Trocadéro ?" that tells the story of a young woman who lost her dog in a park. This is when her fans quickly began to call her "Coco" which is a nickname that will stay with her forever,"
explains Laurent Laborie, Director of the Moulins Tourism Office.
The heritage service of Moulin offers regular visits
"In the footsteps of Coco Chanel"
that take visitors on an exploration of the city center to see the emblematic spots of Gabrielle Chanel's life in Moulins.
It is also possible to download an application on the platform
everytrail.com
(available on Apple Store and Google Play) that
allows visitors to do the trail alone, with their smartphone as a guide.
In this way, visitors can visualize the different steps of Coco Chanel's life in Moulins through commentary and photos of the early 20th century and from today.
Practical Information