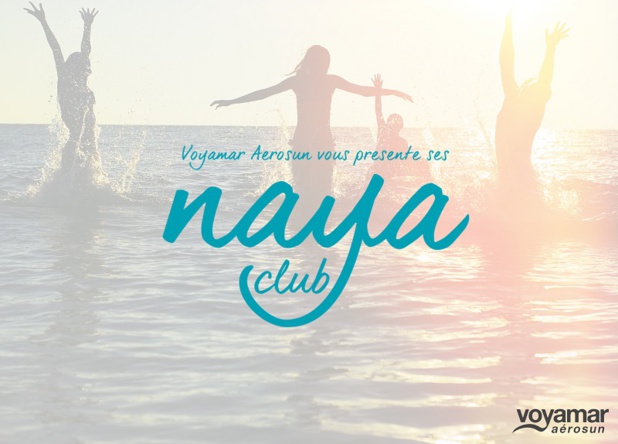 Naya Club is the Clubs concept launched by Voyamar on 5 destinations - Photo DR Voyamar
Voyamar launches its
Naya Clubs
, a Francophone range of clubs,
with the opening of two new destinations for the TO: Corfu in Greece, and Sardinia in Italy.
The three other clubs are located in Majorca in Spain, Zakynthos in Greece, and Crete.
They'll open their doors right at the start of the school vacations of April 2016, and will remain active until the end of vacations of October.
"This type of product was lacking from our production, we were clearly losing sales, as much in our own network as in our partner distribution networks,"
admits Aurélien Aufort Deputy Executive Director.
"And we want to reinforce our popularity."
In this way, Voyamar hopes to make its mark in a promising but competitive sector. Fram, Look Voyages, Jet tours, Marmara…all the big ones are already here. To stand out,
the TO is betting on its differentiating factors.
To do so, it chose to opt for
normal sized hotels
. The establishments have an average capacity between 90 and 100 rooms, with a maximum of 200 rooms.
"We took major allotments on hotels. The one located in Sardinia is an establishment 100% dedicated to Voyamar, as for the others, we are committed up to 50 to 70%,"
specifies Aurélien Aufort.
Normal sized hotels
Another differentiating factor, "Powerful moments" included in the price, allowing adults from the club to be amongst themselves without children (Naya Trip), and vice versa (Naya Break), to taste local specialities (Naya Touch), or access to the jacuzzi or steam rooms in hotels equipped with those services (Naya Zen).
As for entertainment,
the concept of the Naya Club presents itself as light
,
"we are not aiming for a loud atmosphere,"
highlights the Deputy Executive Director.
And for meals, also included in the rate, they will not be available on a 24/7 basis like can be found in some of the competition's clubs.
"We chose quality over quantity,"
explains Aurélien Aufort.
Children are not left behind,
mini-clubs will take care of them right at the age of 4, all day long, including lunchtime.
All of the Clubs are located at less than 300 meters from the beach and all have WIFI. Also worth noting that
Naya Club Corfu is equipped with an aquapark.
The Club Freedom Beach, located in Hammamet in Tunisia, still on the market, should not enter within this new range immediately.
"We are keeping our club in Tunisia. We made a statement on the name "freedom," and we do not want to change everything.

We're waiting to see how things evolve as circumstances change in the country and we are not excluding the option of integrating it within our new brand,"
ensures Aurélien Aufort.
To fill up these 5 new clubs, Voyamar will
charter flights leaving from Paris, Lyon, Marseille, Toulouse, Nantes, Clermont-Ferrand and Deauville.
Now the TO has to make the positioning of the brand Naya known to travel agencies.
"Our number 1 goal is to give confidence to tourism professionals, and to show that we are capable of offering our own clubs in order to diversify our offer and reach out to new clients,"
concludes Aurélien Aufort.
The objective:
seduce close to 40,000 passengers!