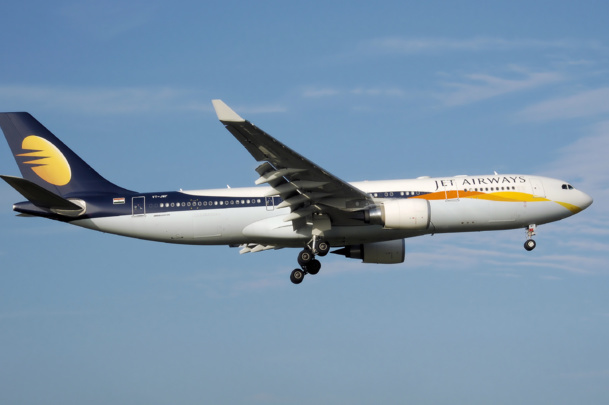 By October 2014, Jet Airways will provide an Airbus A330- 300 with 34 business seats and 259 economic class seat, a total of 293 seat - DR: Jet Airways
Business travelers with Jet Airways are lucky.

Since Etihad bought into the capital of the Indian company, its clients now have access to the lounge of the emirate company at the Terminal 2C at Charles de Gaulle airport.

A haven of peace, where the excellent service honors Etihad's reputation.

This 612 m2 lounge, opened in December 2012, has a dozen tables, with an à la carte menu that changes every two months.

It also has the classic features of this type of area: a shower, wifi, magazines, a private area upon request.

We can enjoy the tranquility in the large armchairs, before returning to the hustle and bustle of the terminal and boarding at 9:10 pm on an Airbus A 330-200. This aircraft, like the rest of its fleet is very recent: around 5 years of age.

Jet Airways offers a baggage limit similar to Etihad, namely 40 kilos, regardless of the number of items (30 kilos in economy).

No "First" class on the Paris–Bombay line
A generous policy which will not benefit Air France customers traveling on code-share on Jet Airways.

The company currently offers four weekly flights, before increasing on 26 June 2014 and providing daily flights. It will then offer 30% more seats next winter.

The aircraft is equipped with 30 seats in business class, here called "First", and 190 in economy, a total of 220 seats. Note that the Paris-Bombay line has no class "First" class, which is only available from London and Brussels.

This configuration will be adjusted this summer, with 18 business class seats and 236 economy seats for a total capacity of 254 seats.

By October, Jet Airways will provide an Airbus A330-300 with 34 business seats and 259 in economy, a total of 293 seats.

This unit will be equipped with the new Business Class model. In the meantime, customers will travel on the old model with cocoon seats, that we tested during the inaugural flight.

Indian honored dinner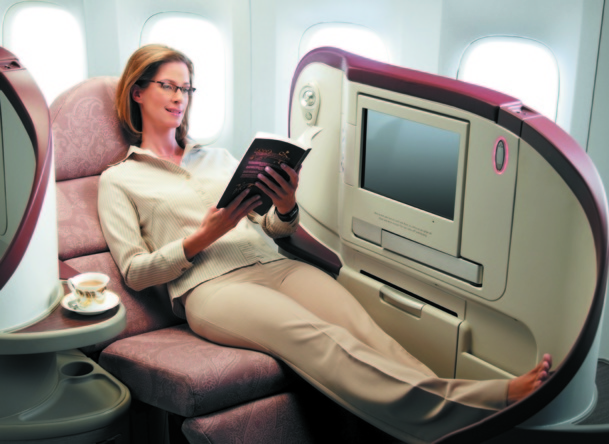 The cocoon seats recline to 180°. Once in place, the large panels provide total privacy to the passenger - DR: Jet Airways
But let's go back inside the airplane.
Just as we took our seat, a smiling hostess comes to offer us a drink, a hot towel and a mini box of chocolates.
A small toiletry kit is available containing three samples of Korres products, an all natural cosmetics brand. Socks are also distributed, but no mask or earplugs.
The announcements are made in English, apart from a few registered French phrases. Same for the menu, which has not been translated to French.
However, the company offers over fifty international films, most of which provide a French version. We can watch
Belle de Jour
again or the latest film by Cédric Klapisch
Casse-tête chinois.
Those who prefer to immerse immediately in an Indian atmosphere can choose a Bollywood movie (subtitles in English only) on the removable 23-inch screen.
India is obviously honored for dinner, with dishes designed by the Bombay Brasserie, part of the Taj group, or the two-star chef Yves Mattagne.
On the menu, teriyaki chicken, shrimp masala, or the vegetarian option Makkai Shehzadi (maize and spinach) accompanied by traditional lentil dhal and basmati rice.
Passengers who wish to remain on European flavors can opt for spinach-ricotta tortellini .
Also worth noting is the careful selection of wines, with a bottle of Montagny Premier Cru (La Grande Roche) or a Pessa Léognan (Château Baret) and a Billecart- Salmon Champagne
Fully reclining flat beds
For the dinner service, the attention to detail is permanent. A white tablecloth, a pepper and salt shaker, porcelain tableware: the dish service is impeccable.

Only downside: we had to wait until 11 pm for dinner, delaying the time to enjoy the fully reclining seat.

Indeed, the cocoon like seat reclines to 180°. Once in place, the large panels provide total privacy to the passenger. An invention that is perfect for those traveling alone, but less convenient for couples.

Just after putting on cotton pajamas I drifted into the arms of the gods.

The hours flew by so fast that I almost didn't wake up in time for the continental breakfast consisting of fresh fruit, and a selection of breads and pastries.

Fortunately, the always smiling hostesses even after nearly nine hours of flying, brings latecomers coffee, finished just before landing in the brand new terminal in Mumbai.

The megalopolis, the economic capital of India, inaugurated in January this new platform, modern and spacious of 439,000 m2, designed to accommodate 40 million passengers.

But unlike in Paris, the lounge for First and Business class is much less cozy. Travelers from all airlines are grouped in this vast space, which has not been a particularly renewed.

A small caveat that should not stop the expected growth of Jet Airways, that hopes to grow by 10% with the Paris-Bombay line.

A restructuring plan to restore profitability
Jet Airways has announced a consolidated loss of €500 million for the fiscal year 2013, ended last March.
It has carried 20.53 million passengers, slightly less than the 20.73 million in the previous period.
It is the biggest loss recorded by Jet Airways since its creation. It is facing particularly tough competition on domestic routes, as well as higher fuel costs.
The company has appointed Cramer Ball, the former CEO of Air Seychelles to carry out a restructuring plan, in particular to reconfigure its fleet of the Boeings 737 and optimize the number of seats on the large Boeing 777 and Airbus A330.
Etihad, which has already invested €505 million in the company, intends to be part of this process.
"We are a long-term strategic investor and will support Jet Airways to find that sustainable profitability,"
said James Hogan, CEO of the UAE company.