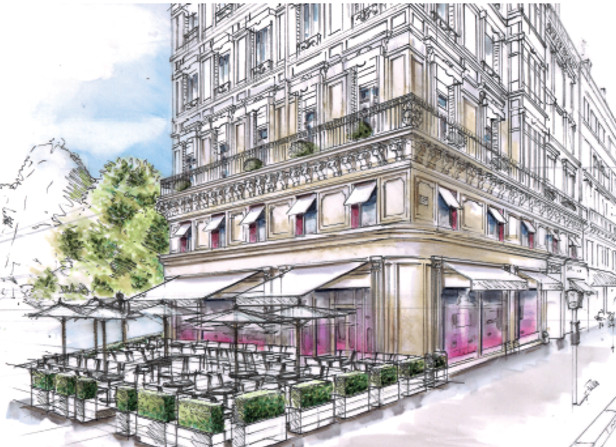 The future Fauchon Hotel - Photo DR
Fauchon and Esprit de France, a branch at 100% of the Lebon Company are associating to open
the first Fauchon Hotel.
The Hotel will be set up in the historical stronghold of the brand, at 11 Place de la Madeleine, in Paris.
The two partners will create a joint business owned at 51% by the family-owned holding company of M. Ducros, the majority shareholder of Fauchon, and at 49% by Esprit de France.
"The latter will provide its hotel-keeping expertise, while Fauchon will offer its mastery in cuisine and contemporary patisserie,"
states a press release.
The operation will finalize in early February at the latest.
The Hotel should open its doors at the start of 2018.
The architecture firm DTACC will work on the Haussman building. As for the interior design, the layout has been assigned to Richard Martinet, an interior designer.
The hotel will have 54 rooms including 22 suites
, all with an exterior view on Place de la Madeleine or the Malesherbes Boulevard, and will stand in the category of a 5 star establishment.
The Café Fauchon will join this entity with
a capacity of 150 seats
including a terrace facing the church.
"The whole venture will benefit from the embellishment work of the Madeleine Plaza, and the expansion of the pedestrian zones intended in the project,"
specifies the statement.
Michel Ducros, majority shareholder of Fauchon:
"The opening of this first Hotel responds to a clearly defined development strategy of the Fauchon brand around cuisine and art of living à la française, with its resolutely contemporary style, a universe that, today, is being exported all over the world."
Paris : un hôtel Fauchon ouvrira ses portes en 2018, Place de la Madeleine