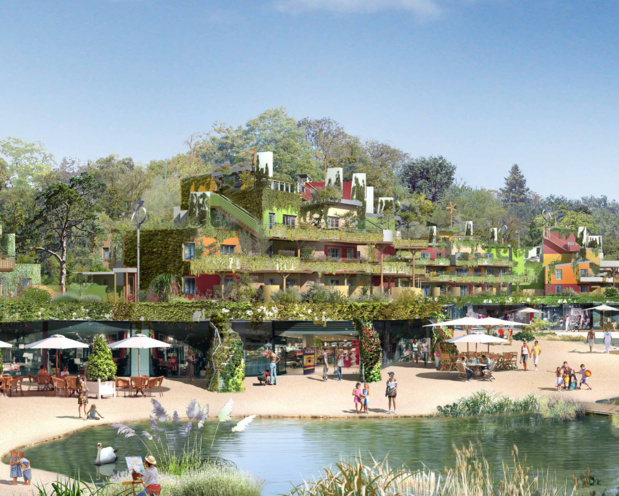 Model of Villages Nature Paris
A joint venture created on equal terms by the groups Euro Disney and Pierre & Vacances-Center Parcs, Villages Nature acts as the contracting authority over the design, development, and construction of "Villages Nature Paris."

This new destination will allow visitors to discover Paris, Disneyland Paris, and other major sites of the region while enjoying real holidays.

It aims at connecting the discovery of the region to a whole world of unique experiences, immersed in unspoiled nature.

Developed on 120 acres for its opening, Villages Nature Paris will offer lots of exploration, relaxation, and recreation areas: Aqualagon, Lake Promenade, Extraordinary Gardens, BelleVie Farm, an Enchanted Forest.
Close to 30,000 trees planted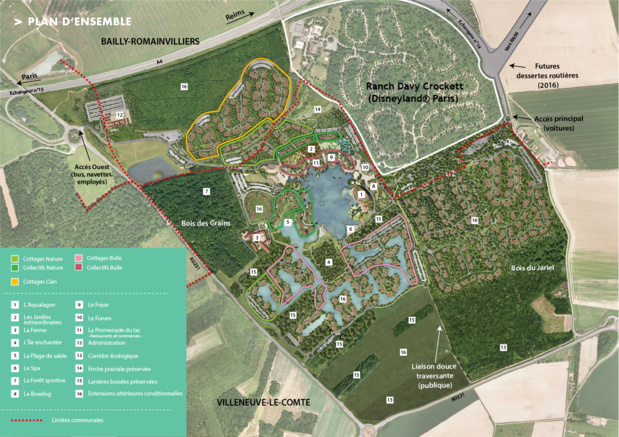 Map of Villages Nature Paris
The planting started this winter, since 28,800 trees, 430,000 plants and bushes are expected to be planted in total. Conceived as a sustainable and responsible tourism destination through its concept and operation, Villages Nature Paris will also contribute
to the economic and social development of its host territory.
It is in this view that Villages Nature Paris signed an agreement with the grouping of economic interests of the Franciliennes Pépinières for the supply of 82,000 plants.
"This partnership represents the realization of a dream: the participation of our group to this major francilien project of Villages Nature Paris through the supply of our Ile-de-France territory along with 82,000 trees and bushes
- explains Fabrice Martin, Affairs Manager of Pépinières de Vieux-Champagne and member of the GIE of Pépinières franciliennes -
we are proud to be part of this great adventure and we are convinced that this new touristic destination will be successful."
Immersion at the heart of a vegetation-city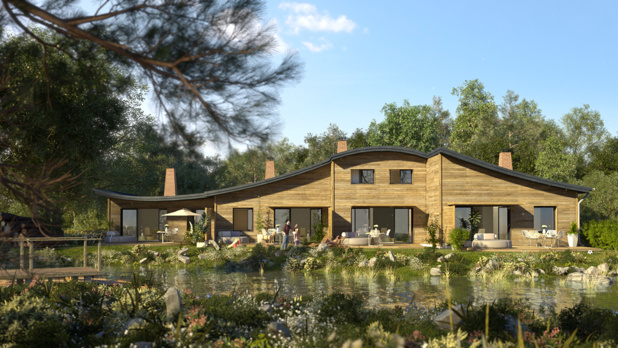 Model of a cottage at Villages Nature Paris
A joint creation by Joe Rohde, Senior Vice President of Walt Disney Imagineering
(the department in charge of creating Disney themes parks and hotels around the world) and
Thierry Huau, internationally renown French Landscape Architect and Ethnobotanist
, the planning of this city brings the Tree back to the heart of the city.
"Villages Nature Paris is a vegetation-city that explores the art of living indoors and outdoors, and of sharing every moment with family, children or friends -
explains Thierry Huau, Artistic Co-Director of the project -
hanging garden, wooden and plant architectures, the Land Art pieces, animals and plants cohabiting in harmony.

Nature is praised on a daily basis in the decoration, cuisine, games, and of course, in the energies coming from this nourishing land, like geothermal, sun, and wind energies.

A true feast of colors and smells, shapes and materials, the garden is floral and fun in the day, or musical and magical at night."
www.villagesnature.com
Disneyland Paris : début des plantations pour Villages Nature Paris