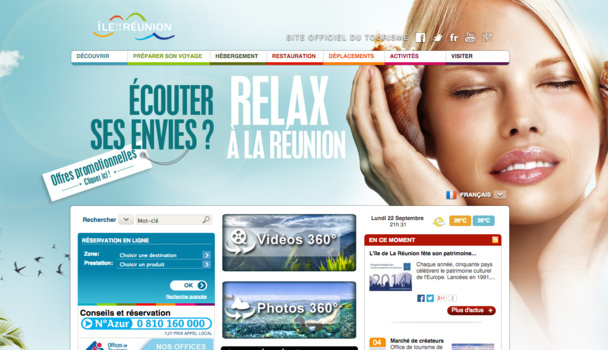 The Reunion Island's new website wants to be more "inspirational". DR
Tourism professionals of the Reunion Island can relax.

Contrarily to projections, the destination stayed constant, with a slight inflexion of 1% on passenger arrivals (187,400 people) in the year's first trimester.

The mainland's market is only decreasing by 2%. A drop that is compensated by a rise of European arrivals, that are increasing by 28%.

Germany (approx. 10,000 passengers) is considered the main market. The country's regional tourism committee is established there through two collaborators and has launched a communications campaign.

This illustrates that the Reunion Island doesn't want to only depend on the Mainland, that accounts for 80% of its activity.

Today, it hopes to attract its closer neighbors, such as South Africa, progressing by 100% (approx. 1,500 clients) or India and China. In fact, since last July 1st, travelers from both of these countries do not need a visa anymore to spend less than 15 days on the island.

Ultimately, the destination hopes to attract 450,000 in 2014.
Discovering the new website
To accomplish this will, it launched a large communications campaign, that can still be seen on the Parisian subway, and will be showcasing its new
website
at the IFTM Top Résa trade fair,
that has been fully redesigned for an amount of 400,000 euros.
A platform that eases online accommodation reservations, from a Gîte de France to a Clévacances apartment, along with various activities.
Thanks to the new website, travelers can approach the destination around main areas of interest: relaxation, culture, leisure and adventure, helping to better organize their trip once they have arrived.
A platform that can be explored at the destination's stand (M29) where visitors can meet
close to 40 local providers who came to Paris to introduce their new offers.