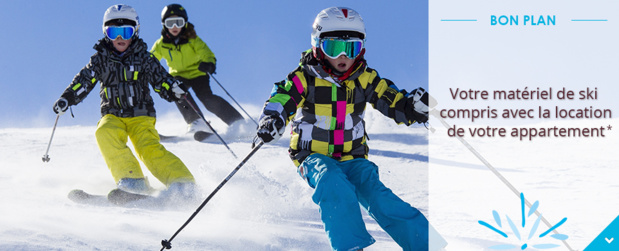 Residents will benefit from
a package per person that includes skis, shoes, and sticks.
The facilities participating in this promotional offer are: the residences of Saisies, Carroz d'Arâches, Châtel, of la Rosière, Houches, Tignes Val Claret, Tignes Le Lac and Tignes 1800, of Peisey-Vallandry, Champagny in Vanoise, La Plagne, Montgenèvre as well as Samoëns (La Reine des Près and Les Chalets de Laÿssia - new since 2015.)
"Today, the French mountains are putting in joint efforts to stimulate skiing in April through multiple operations and activities.
On our end, we decided to enhance our services by bearing the cost of our clients' ski equipment rental; it will be included in the rental of an apartment and will constitute substantial savings for them, but this is especially a symbolic gesture and a proof of our attentiveness, that is very much appreciated. Our clients will remember this and talk about it in their entourage,"
explains Jean-François Mercier, Commercial Director of CGH Résidences & Spas.
"The month of April is ideal for skiing. Far from the crowds of the February holidays, it is perfect for pursuing the passion of skiing in total serenity.

It is also the ideal time to try new snow sports. Finally, spring often rhymes with sun and wellbeing on the slopes. And since the days are longer, skiers will be able to enjoy the slopes until later than 5 pm."