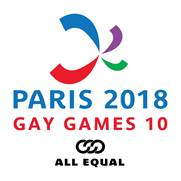 The 10th edition of the Gay Games that will take place for the first time in France, in Paris, will gather over
15,000 competing participants to the region, from over 70 countries supported by 40,000 spectators from Paris and beyond.
This accounts for no less than
100,000 accommodation nights, 500,000 meals, as part of an economic impact worth at least 58 million euros.
With support from the highest government agencies and French sport federations,
Paris 2018-Gay Games 10 is planning a unique event celebrating diversity, respect, equality, solidarity, and sharing, with
36 sports, 14 cultural events, an academic conference, and numerous ceremonies and soirées that will take place in the most prestigious venues of Paris.
This international event is open to all who are 18 years or older, without any selection criteria or requirements regarding athletic or artistic experience, sexual orientation, religion, nationality, health, disability, or age.
Adeline Fiani,
Director General of KTS Tourisme stated,
"Tourism provides a step towards respect of others. KTS is proud to support the Paris 2018 values and show French excellence in tourism and hospitality for a wide array of visitors"
Reservations for travel and accommodation for Paris 2018 (hotels, transportation, excursions) can be made via
http://travel.paris2018.com
.
Matthieu Jost
, co-founder and CEO de misterb&b stated,
"Our offering was created in Paris and has become a world leader in the rental of LGBTI-friendly apartments. We are very pleased to show the quality of our offerings and to also manage the hosted housing component for Gay Games 10."
Reservations for Paris 2018 apartments can be made via
http://misterbandb.paris2018.com
.
Paris 2018 - Gay Games 10 and its tourism offers will be promoted widely by government and institutional partners
– the Paris Convention and Visitors Bureau, the Regional Tourism Committee of Paris Ile de France, Atout France, the France Tourism Development Agency, IGLTA, the international Gay and Lesbian Travel Association.
These partners are working together as part of the Paris 2018 Tourism Committee.
Paris 2018-Gay Games 10 is in discussion with several major players in the French tourism industry as possible future sponsors of this major international event.
Practical Information