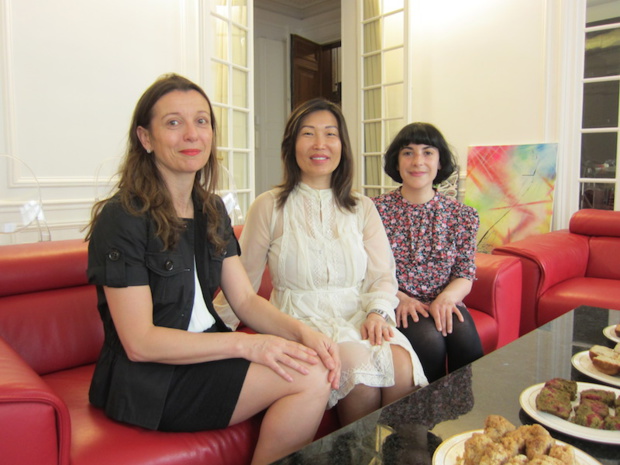 The team of Gîtes de France accompanied by the owner of one of Paris' incredible addresses of the association - DR: LAC.
Les Gîtes de France are heckled seniors.
The association, that is celebrating its sixty year anniversary, has been put aside for a little while now by the same concept that it gave birth to: accommodation rentals between individuals.
But while Airbnb and others may have double digit growth rates, the association insures having zero resentment towards these new competitors.
"Airbnb is developing, but so are we. There is room for everyone,"
assures Anne-Catherine Pechinot, Executive Director of Gîtes de France.
The President, Yannick Fassaert, was a bit less diplomatic during a conference given at the second World Tourism Trade-Fair.
So, in order to reaffirm itself in front of these young players of the collaborative economy, Gîtes de France has recently published a study that proves, with numbers, its important impact on the French touristic landscape.
This very detailed investigation, done by the MKG office amongst 2,000 owners and 4,000 clients, shows the multiple financial, social, and cultural impacts inside the regions.
An undeniable player in the development of regions.
The cabins have contributed
2 billion euros
to the economy last year, including the direct and indirect financial impacts.
On one hand, the clients have spent
1.3 billion euros
mainly in restaurants and proximity businesses.
On the other hand, the owners have also spent
191 million euros to local providers
to buy croissants, baguettes, and other groceries necessary to prepare breakfast, dinner, and other events.
Another important aspect: urban development. By refurbishing old farms, barns, and abandoned buildings, the owners have invested close to
473,5 million euros in renovation work.
Because welcoming people in your home cannot be improvised. Around
91,206 euros need to be counted to manage a cabin, 75 917 euros for a bed and breakfast.
"Our members are always doing construction, either to better set up their homes, to enlarge their hospitality capacities, or even to install new equipments,"
continues Anne-Catherine Pechinot.
The park has thus increased in the last few years, and close to 60% of the offers now have three stars or more. Despite all of that, a stay remains affordable, with an
average spending for 4 people of €443 per week and €552 in August.
More developed services than the players of the collaborative economy
The gîtes also want to be exemplary citizens who pay their taxes in France:
468 millions euros of all direct and indirect tax receipts last year.
They are also job providers, hiring
31,745 people full time.
The study insists on the complementarity between hotels and gîtes, who offer an additional offer that is welcomed during the high season.
Meaning that there is no competition with accommodation professionals, especially since welcoming vacationers in one's home is rarely the main activity of an owner.
They declare making a business turnover of €10,740 and €18,590 for bed and breakfasts.
"For a large majority of our members, it is a complement to their income. Rare are those who genuinely live off of that,"
assures Catherine Pechinot.
She takes advantage to remind the pros of her label, the third most famous brand in France, for all of those who want to get into person-to-person accommodation rental.
On average, the membership fee is around
€280 par year, plus close to a 12% commission for a reservation coming from the reservation website.
"We're still cheaper than Booking and we provide our members with a support in the commercialization process, and we help them with the production, contrarily to Airbnb."
Conditions that seduce more and more home-owners every year.