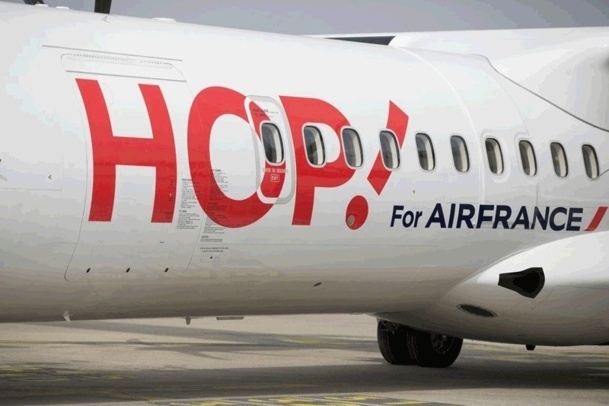 When we ask Frédéric Gagey, Air France's CEO on the differences between the short and medium haul activity of Hop! versus that of the main company, Air France, the answer remains confusing… /photo dr
It's not easy to see straight within the complex web of the Air France group.
In a report released on Monday June 30th, Lionel Guérin, the CEO of Hop! tried to provide a summary of the activity of the short and medium haul company of the group accompanied by a team of independent experts.  
This document provides various recommendations to better prepare Air France in front of the competition of low-cost and train companies.  
But while Transavia's strategy seem clear, that of Hot! is still hard to grasp.  
In fact, Transavia should even improve significantly as a leisure operator leaving from Orly.  
It should soon get closer to its Dutch sister company in order to create bases abroad and attract the tourism clientele, as well as travelers who visit family, friends, or live abroad in a secondary home.  
The report also anticipates a development on Lyon and Nantes as well as Toulouse. According to the estimates, Transavia France could operate with around fifteen more aircrafts, adding to the current 19.  
This strategy should please the SNP that has been asking for months for a clarification on the development policies of the low cost company.  
"I hope to soon get a hold of the report, but from the first feedbacks I've heard, it seems to be working in our advantage"
explains Jean-Louis Barber, president of the union.
Air France doesn't know what to do with Hop!
However the strategy with Hot! is a lot less clear-cut.
This Air France branch created on March 31st 2013 with the intention of merging its three regional companies (Brit Air, Régional, Airlinair) has done the job right.  
Thanks to the agreements with the union, it managed to improved its economic efficiency by 15% and to make global savings of 19 million euros in 2013 and 21 million euros this year.  
Despite an 8% decrease in its capacities, its fill rate is highly increasing. It has increased by 8 point last june in comparaison to June 2013.  
"We are certainly going to get our balance back in 2015
" explained Lionel Guérin.  
But when we ask Frédéric Gagey, CEO of Air France, on the differences between the activities of the short and medium haul of Hop! and those of the mother company, his response is very unclear.  
"They are two brands that work on the same market and that need to cooperate"
he explains.  
The report advocates a grouping of the flight schedule, management revenue, the marketing and sales functions.  
But then why keep both brands? Frédéric Gagey likes to steer away from that question:
"the issue of the brand is secondary."
In fact, he believes that this document is just a step for thinking and that soon practical functions will need to be derived from it.  
"We are going to continue working in order to speed up the point to point development and be more reactive to fight competition."
Next episode on July 25th during the publication of the company's half-year results.