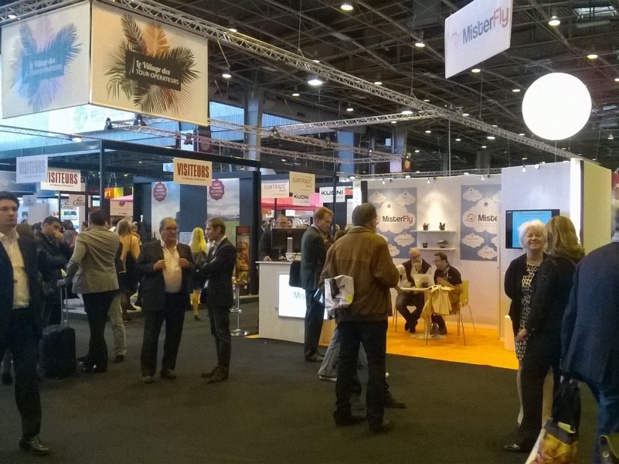 Participating companies are satisfied with the turnout at the trade-fair in the first two days but complain about a decrease of visitors starting Thursday - Photo P.C.
The participants of IFTM Top Résa 2015 affirm feeling
globally satisfied
with the edition that ended on Friday, October 2nd, 2015 at the Parc des Expositions of Paris, Porte de Versailles.
The location of the trade-fair in Hall 1 is one of their main points of satisfaction.
"There was much more space in this new pavillon,"
summarizes Alena on the stand of
Pouchkine Tours.
"The stands are beautiful, but we are lacking information on the activities and services available to the participants,"
adds Stéphanie from
Hotels & More
, a British DMC.
On his end, Louis from
Magic Event
, a company that attended IFTM for the first time, finds the Business Travel space on which he was located to be
"very beautiful and well adapted."
Grégory, from
Fragonard
, who was set up in the France Club section, echoes this impression on the overall aesthetic of the IFTM stands. However, he deplores that the space devoted to Map Pro, that took place on Tuesday 29 and Wednesday 30 of September, 2015, was not as well set-up or decorated.
"The stands in both trade-fairs should be harmonized,"
he advises.
Let's also note that the Map Pro zone, a trade-fair devoted to group tourism and the France destination, was not entirely cleaned up after it ended. Something that several participants complained about. Especially since the space is visible from the outside when arriving at the Hall 1.
Increased turnout
All the participants we contacted to conduct this recap believe that
the turnout of this edition was much greater than in previous years.
But it wasn't steady.
"We saw a lot of people during the first two days with the Map Pro,"
believes Françoise of Paris City Vision.
However,
"the turnout clearly dropped starting Thursday,"
adds Louis at the Magic Event stand.
Which, consequently, makes some people wonder on the relevance of having an event extend over 4 days.
"Maybe the trade-fair would be more efficient if it were organized over 3 days only because it seemed that Friday was a bit useless,"
adds Carine from
Italie & Co.
Furthermore, she also laments that many stands
"didn't commit to the evening session on Thursday. At 5:30pm the alleys were already being emptied and many participants left."
Another point, concerning practicality, that also left a negative impression on the participants:
the toilets.
"There was a shortage of restrooms and they were not clean enough,"
laments Stéphanie from Hotels & More.
In turn, the lines were sometimes very long.
"When we're alone managing a stand and have to wait thirty minutes to use the restroom, it's just not possible,"
adds Justine, also at the Hotels & More stand.
"Lots of contacts"
In spite of this, the professionals we contacted
provide an overall positive feedback on the quality of the event.
"We see many of people and makes lots of contacts. We meet new partners and also recruit new clients,
rejoices Alena from Pouchkine Tours.
Top Résa is an opportunity to speak openly and to make moves on lots of cases. People who come know why they are here. Meetings are efficient. No time is lost."
Located at the heart of the France Club, in the joint zone between Map Pro and IFTM,
Paris City Vision
fully capitalized on its positioning, as Françoise explains:
"We are very satisfied. Sales were materialized during this week's event.

Some participants even came to us to reserve services and excursions in order to continue their stay in Paris once the IFTM was over."
As for Louis from Magic Event, he mentions another point of satisfaction:
"all of the conferences were interesting."
A high quality context, qualified visitors, and concrete meetings
seem to be the ingredients of success for this year's IFTM and Map Pro. A recipe that leads at least all of the contacted participants to affirm that they'll come back next year.