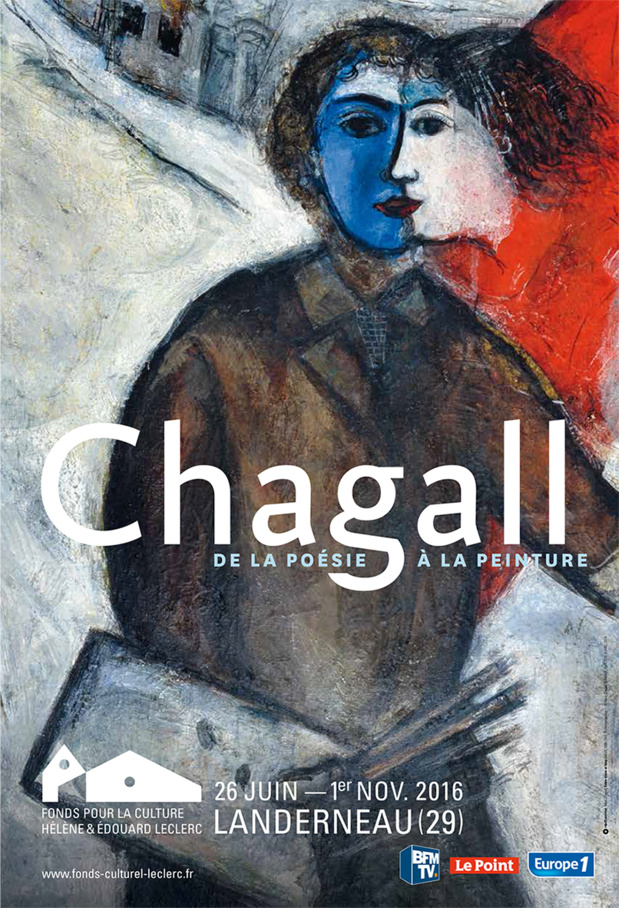 The exhibition featured at the
Hélène & Edouard Leclerc Culture Fund
displays major pieces of Chagall's work, collected from international museums and private collections.
These pieces illustrate the theme of the Bible, the elements that marked Chagall's life (Russian revolution, WWII, exile…) and the major texts that inspired him such as his paintings on the La Fontaine fables.
Out of the
300 pieces gathered in Landerneau
, many also reflect his friendship with famous writers and poets like Blaise Cendrars, Guillaume Apollinaire, André Malraux, Louis Aragon...
"Through this exhibit, we wanted to offer a new perspective on the artwork of Marc Chagall, a new look at poetry and painting. The pieces come from Paris, Nice, Roubaix… Yet, Chagall had never been exhibited to the general public in Western France. This is the encounter that we are organizing from June 26 until November 1st in Landerneau, thanks to Jean-Louis Prat, curator of the exhibit,"
declared Michel-Edouard Leclerc.
Practical Information
Fonds Hélène & Edouard Leclerc pour la culture
Aux Capucins
29800 Landerneau
www.fonds-culturel-leclerc.fr
Rates
Full rate: €8. Reduced rate and groups of more than 10 people (reservation required): €6.
Hours
Open every day from 10am to 7pm until August, and from 10am to 6pm from September to November.
Getting to Landerneau?
19 minutes from Brest airport
25 minutes driving from Brest and nearly 2h from Rennes.
TGV: Paris/Rennes/Landerneau/Brest. Under 4 hours from Paris.