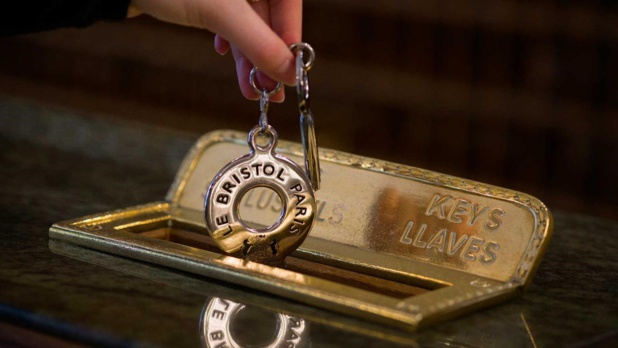 TourMaG.com: What are the qualities that make Bristol a palace?
D.L.C.: "
Its personnel, timeless charm, and the family spirit that reigns and that is closely tied to the owners.
Le Bristol belongs to one, same family. A palace sublimates excellence, it is a know-how that we put forward through the talent of our 6 Best Workers of France. This is an expertise that essentially gets acquired over time."
TourMaG.com: How does one become the director of a Parisian Palace?
D.L.C.:
"First of all, generally,
by attending a hotel-management school,
but not only: many hotel directors come from different backgrounds, diverse paths. In terms of the qualities required I would say having the ability of questioning yourself, always wanting to learn, being opened to trends, and trying to anticipate the needs of the clientele. Knowing very well how to surround yourself is also a necessity, having a taste for quality, knowing to identify the needs of the clientele, and understanding the real strength of the hotel you direct.
As for my career,
I joined Le Bristol Hotel in March 2010. I evolved in the international luxury hotel sector, since over 35 years
, of which eighteen were spent in the group Four Seasons for which I was the vice-president for France and Portugal from 1999 to 2007. I also served for the Plaza in New York, George V in Paris, the Regent in Singapore, and Pierre in New York."
TourMaG.com: Can you tell us about the beginnings of Le Bristol and how it became a legendary museum?
D.L.C.:
"In 1923, Hippolyte Jammet bought, in the Faubourg, the wonderful home of the Count Jules de Castellane to turn it into the most luxurious hotel of Paris. He calls it Le Bristol in honor of Frederick Hervey, the 4th Count of Bristol, a major traveler of the 18th century known for his love of luxury and high demand in terms of comfort.
The hotel opens in April 1925, in the middle of the "roaring twenties." At that time, Paris a large party, an explosion of creativity.
The Charleston is danced everywhere, painting is revolutionized in the Montparnasse studios, philosophy is discussed in the literary cafes. In June 1940, Le Bristol Paris becomes the headquarters of the United States Embassy and of all the Americans living in Paris. Its strategic location, next to one of the biggest Haute Couture Houses, also turns it into the favorite hotel of fashion photographers.
In 1954, Pierre Cardin opens a boutique on rue du Faubourg Saint-Honoré, soon followed by Christian Lacroix, Hermès, and many more. Hollywood stars begin to stay at the Le Bristol Paris: Kim Novak, Rita Hayworth, Charlie Chaplin…
In 1962, the highly respected American travel guide "Fielding Travel Guide To Europe" lists Le Bristol Paris number one on its ranking,
granting the Palace with a prestigious reputation that has never been lost since."
TourMaG.com: How do you explain that the hotel enjoys such longevity?
D.L.C.:
"It most certainly comes from the fact that only two families governed the facility: the Jammet family and the Oetker family. There are also lots of employees with many years of seniority (20-30 years) but also younger employees. We have all age ranges at Le Bristol.
This allows for clients to feel recognized more easily, and they are people like the
Chef Eric Frechon
for instance (who has been working since 18 years in the kitchen with the same rigor, same intensity) who participate in this wonderful longevity. There is also the loyalty of our employees which translates into the great loyalty of our clientele, and the family spirt that our hotel conveys."
TourMaG.com: "What are some of the big names who regularly stayed at the Bristol?
D.L.C.:
"Kim Novak, Rita Hayworth, Charlie Chaplin, Coco Chanel, Josephine Baker..."
TourMaG.com: Who are some of the current celebrity regulars, French or foreign?
D.L.C:
"Lady Gaga, David Beckam, Léonardo Di Caprio, Woody Allen, Julia Roberts..."
TourMaG.com: What is this book on the 90 years of the Bristol, what does it say?
D.L.C :
« The book
"Un Palace Parisien"
by André Bercoff was essential because we had not written one in over 40 years! We are still in contact with the former owner, Pierre Jammet, and we had the opportunity of garnering his viewpoint and additional anecdotes on the story of his family. In the same way, we were able to ask questions to the Oetker family on the acquisition of the hotel in 1978.
We still have the privilege of having a few employees who have more than 35 years of experience in the hotel, and it was interesting to know their perception.
Le Bristol deserved, through this book marvelously written by André Bercoff, to have a full compilation of its history. This book was particularly well received by our clientele who loves to know the anecdotes and history of this great facility. It is also a source of pride for all of our employees.
A new hotel that opens in Paris today cannot be as rich in wonderful stories, it takes time. Le Bristol just ended an important renovation phase of over 170 million euros in 7 years, of which the outcome is magnificent which will enable us to perpetuate this longevity that we mentioned earlier."
TourMaG.com: Today, concretely, what defines Le Bristol?
D.L.C:
"
The hotel has 188 rooms including 92 suites and 6 wonderful lounges entirely refurbished in 2015, that open onto a superb 1200m² garden. Three restaurants: Epicure (3 Michelin stars), la Brasserie 114 faubourg (one Michelin star) and le Jardin Français. A very beautiful bar inaugurated in 2012 and the Le Bristol spa by La Prairie. There is also a beautiful pool set up on the 6th floor that is full of light."
TourMaG.com: Is there a bar, restaurant, or special event opened to a clientele from the outside?
D.L.C.:
"Of course, all of the restaurants, the bar, and spa are open to a non-residing clientele. The hotel also offers a number of recurring events such as a Wine Tasting evening at 114 Faubourg, the Book and Wine event at the Salon Castellane, "Fashion Tea" afternoons (fashion shows), or parties at the Bar du Bristol."
TourMaG.com: What are some projects of the Bristol for 2016?
D.L.C:
"For 2016 we are continuing with the annual renovation of the rooms (we renovate around fifteen every year.) Then we are tackling some less visual projects: we are remarking a third of the roof, we are changing the air conditioning system of the Jardin Français and of our lounges for the wellbeing of our clientele.
Furthermore, we are going to embellish the colonnade space that is located at the garden level by giving it a very cozy veranda aspect."
Practical Information