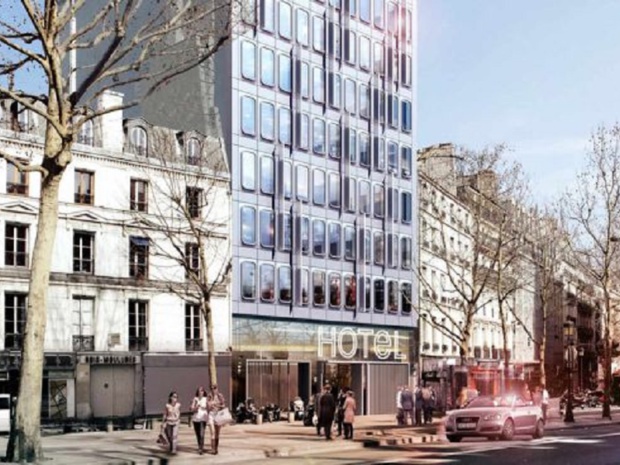 The new hotel Paris Renaissance will open next April 18th in the République neighborhood. DR-Marriott.
This wedding will give birth to a giant.
On Friday April 8th,
the shareholders of Starwood Hotels & Resorts Worldwide and Marriott International approved the fusion of both entities, the first one should be absorbed by the second.
Meaning that it will take two or three months for the two groups to become world leaders in the hotel sector.
This is the time needed to receive the approval of the authorities in charge of the competition in Europe and China.
An operation estimated at
12.5 billion dollars (10.99 billion euros) for a total of 1.1 million rooms under the umbrella of thirty brands: 19 for Marriott and 11 for Starwood.
In the current state of negotiations, none of these brands are doomed to disappear.
"We wish to maintain all of our brands to offer better customization and to best target the different types of clientele,"
explains Gitta Brueckmann, Regional Vice-President of Western Europe for Marriott.
Double the number of hotels in Europe
Out of Marriott's 19 brands,
only six are found in France for a total of 22 facilities.
Some are currently in development like the Autograph Collection. Already found in Nice, Lille, Rouen, it should open a hotel in Paris in 2018 and Reims in 2019.
The brand AC Hotel, that has 5 facilities, recently inaugurated a hotel in Marseille this January.
Finally, the brand Renaissance is adding a sixth French facility to its collection. It is called Renaissance République and will open on April 18th. It is the only 5 star hotel of Eastern Paris, with the very recent MGallery Boutet (Accor).
France remains an important market for the American group and should continue to attract its investments.
"We are going to make new announcements in all the months to come,"
ensures Gitta Brueckmann.
Because the hotelier is full of ambitions. By 2020, he hopes to double
his portfolio of 327 hotels in Europe
. These goals could eventually be raised after the fusion with Starwood.
Marriott : les ambitions françaises du futur leader mondial